Concentrate Review: Lemon Tree Crumble from Trulieve
Lemon tree crumble
Lineage: Lemon Skunk x Sour Diesel
Original Breeder: Unknown
Grower: TruFlower
Processor: Trulieve
Dispensary: Trulieve
Lemon Tree Crumble Review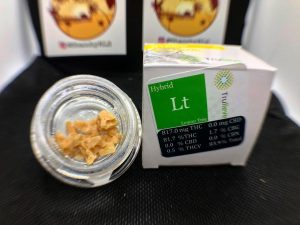 THC:83.9% CBD: 0.0%
Recommended time of use: If you have somewhat of a tolerance or can manage not to overmedicate by accident, this strain can be used as a wake and bake, mid day, night time, as it isn't a heavy indica hybrid which will tire you out, yet it'll give you that boost of energy and will to do want to get things done.
Head: this strain made me have Very happy thoughts and positivity flowing through my head, I actually feel like this will be an extremely productive day today, and this strain will help me throughout
Body: This strain took away a minor ache I had on my back, it also eased the claustrophobic feeling my RLS causes my left hand which is usually extremely annoying and interferes with my everyday life.
Creativity/talkative: I actually became very talkative and got to writing this review, and editing pictures and taking pictures and just overall having a good time.
Hunger: This strain won't get you hungry, yet it will give you cravings periodically that will leave you wanting more snacks, yet not a full plate of food. .
.
.
.
.
.
Ignore hashtags 😅👎🏼
.
.
.
.
.
.
#restlesslegsyndrome #trulieve #truliever #truflower #sunshine #cannabis #sunshinecannabis #sunshinestate #medicalmarijuana #marijuana #mmj #florida #miami #miamibeach #miamiweed #review #weedreviews #indica #sativa #hybrid #cbd #cannabinoid #thc #flower #instaweed #pictureoftheday #picoftheday #photooftheday #frosty
Advertisements