Dab Review: Sour Tangie 90u Live Rosin by 710 Labs
@puffco Proxy — dabbing on the @710labs – Persy live Rosin – Sour Tangie – 90u second tier .
Lineage/Genetics: East Coast Sour Diesel x Tangie
Original Breeder: Reserva Privada by DNA Genetics
Grower: 710 Labs
Processor: 710 Labs
Terpene Profile: Unknown
710 Labs Sour Tangie Persy Live Rosin Review
.
I love reviewing flower, but always had a thing for hash. #PuffcoProxy is the new innovation of vaporizing concentrates . I am new to the dabbing community, but not a rookie on taking a great rip. I purchased the Proxy since I didn't have the Peak Pro and my puffco pen gave me a glimpse of the full experience. Proxy is simple to use, and easy to clean. I recommend on being careful handling it, since the pipe is made out of ergonomic glass. The base is the purpose of it being a proxy.it has the authority and power to make a big impact on the glass art vaping. Similar to its peak pro siblings but on a bigger scale . The base can fit on any custom made glass that can fit its frame. The proxy has 4 stages of temperature, like the peak pro. The Blue color as the lowest to white is the peak. @710labs Sour Tangie Persy Live resin is the first concentrate I get to try on this Proxy. The scent is a tangie combine with diesel. The taste is a citrus, tangerine 🍊 orange blend with the skunk of Sour. The effects were medium intense level cerebral high. Followed by an overwhelming body high. I took about 6 hits, that took me to the moon. The inhale is smooth mix with dryness and limonene terps. Overall the proxy is a must try for those that want to take the concentrate vaping experience to another level. The @710labs Sour Tangie was good but I felt it could of been stronger, I tasted more terps than effect. I still enjoy the high and taste and looking forward on reviewing more concentrates. Shoutout to @puffco for this invention . Shoutout to @ivape_newyork for blessing me with this @710labs… Proxy – 5/5 on the experience and simple to use ..
#710labs Sour Tangie – 4/5 — tasty, smells good high can be stronger but still enjoyable.
Lemon 🍋 Betty Shirt by @thekolektors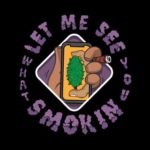 Advertisements