Strain Review: Gobbstopper by Wizard Trees Farm
Gobbstopper aka Gobstoppers
By @wizard_trees
Gifted by @exclusive_gld_dc @goldlabeldistribution
Lineage/Genetics: Purple Urkle x Sin City Kush
Original Breeder: Alphakronik Genes
Grower: Wizard Trees Farm
Gobbstopper Strain Review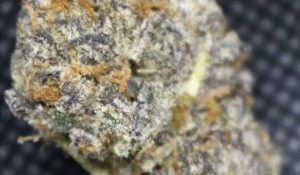 Appearance – As I opened the bag I revealed a enchanting flower that was completely engulfed in tones of deep berry purple and dark greens, the entire nug was frosted with a immaculate layer of trichs and has orange hairs that weave in and out of this work of art, upon cracking the bud open it was a magical land of sugar and purple, the bud was a tad on the dry side but absolutely amazing.
Smell – As soon as I opened the bag my nose was overcome with a sweet earthy floral bouquet odor, I dug in deeper and it slowly tappered into a musty sugary scent, it wasnt over powering but a very nicely balanced smell, upon the grind my nose filled with the scent of earthy smooth vanilla mixed with a slight hinto of sugar and berry.
Taste – The inhale out of the bong tasted like a berry or grape candy that lingers on the tip of your tounge, the hit went down smooth and had absolutely no choke to it, very clean and delicious. On the exhale there was a earthy candy tatse that was reminiscent to the purple part of a gobstopper.
Effects – One rip and I could feel the sativa side of this strain hit my head like the flash when he punches a hole in time, super racy and a little anxious, I took a second and my mind was thinking a million times fast and felt like I was running but was sitting still, I smoked a ciggerette and by the time I finished that the indica started to set in, my arms relaxed and my body is tingling, but my mind is still running through a wild jungle.
This is an indica dominant hybrid that will rock your socks off, I don't recommend if you are prone to anxiety with this one as in the wrong state of mind this strain would of drove my head crazy with over thinking, if you're looking for a good kickstart after a long day at work to keep you going through the night that thsn tappers off into a pleasant cerebral buzz I would absolutley recommend this.
I give this strain 5+ stars
@wizard_trees you had it all, not much more a cannasuer could ask for, perfection at its finest!
Thanks to @exclusive_gld_dc 4 always holding it down on the 🔥 gifts.
Advertisements