Strain Review: Larry Burger by High Larry US
Oh we been LAGGING!
@high_larry_us_cannabis
@trunorcal420_
#YEE
Brand: High Larry US
Cultivar: Larry Burger
Lineage/Genetics: Han Solo Burger x Larry OG F8
Original Breeder: Skunk House Genetics
Grower: High Larry US
Larry Burger Strain Review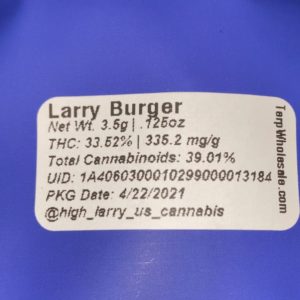 33.62% THC
39.01% Total Cannabinoids
Pkg Date: 4/22/2021
Comments: Gotta try something new once n a while! Let's see how High Larry does this burger cut 👀
Review
1. Scent: Petrol for sure. A menthol like pine maybe Kush vibe. No citrus or fruit;
2. Appearance: Lightly coated sugar style trichomes cake the bud. More cylindrical like buds.
3. Nug Structure: Fresh, not dry but could be burped if a little more cure.
4. Smoke: Yo, this is full bodied and def left a hanging cloud, but I did notice a bit of tingling on the throat and nose. Sticks with ya for a few breaths so careful you bong smokers. Could catch ya off guard.
5. Taste: Getting gas and tang; a saliva inducing reaction on the mouth.
6. Reaction: Enjoying this stone, eyes dropped instantly, body left in rubble on the couch. Lol! Def a later evening / lazy day smoke.
7. Conclusion: If this is available I'd grab again. Interesting take on the burger cut, sometimes it's a miss as the flavor is too gassy/ almost artificial but this have a nice after taste that doesn't take it over the line. Very pleasant.
8. Methods: Ripped multiple times using the magnifying glass, so let's go with a new ranking system one – five on the scale. 🔍🔍🔍🔍🔍 for this.
#NoHashTagz
Advertisements