Strain Review: Rollins by Lost Coast Exotics
Woot The Rollins strain by Lost Coast Exotics @lostcoastexotics #rollins.
Lineage/Genetics: Lemon Tree S1 x Nigerian
Indica or Sativa: Sativa dominant Hybrid
Original Breeder: Swamp Boys Seeds
Grower: Lost Coast Exotics
Rollins Strain Review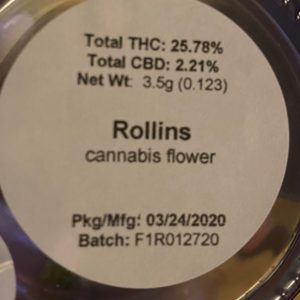 Didn't find this review in the notes fully completed. Lol oops! It's def tasty like a trainwreck line and the nugs were dense little cones and super bulbous.
Happy 420!
#cannabiscommunity #cannabis #cannabisreviews #trees #weed #weedreviews #pot #potreviews #marijuana #marijuanareviews #thc #sacramento #916 #420 #yee #legal #
Advertisements