Dab Review: Devil Driver Rosin by Rare Air Rosin
Devil Driver
Lineage/Genetics: Sundae Driver X Melonaide
Original Breeder: Unknown
Grower: Unknown
Processor: Rare Air Rosin
Devil Driver Dab Review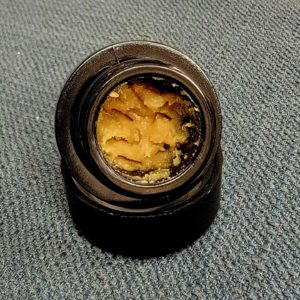 🔥🔥Firee Rosin Alert 🔥🔥
Wanted to bring a few bangers out to the review table – this Devil Driver 😈 is up there!
Rare Air Rosin is located in Michigan and they have a great IG that showcases their amazing work. They also specialize in solventless consulting if your looking for help! (Check their website). This jar was superrrrr fresh. Just like the Mimosa from my earlier review – they both are very aromatic 👃 The smell coming out of this jar is sooo sweet. I've never had Rosin that smelled lile this before. Unique for sure.
If grape flavored sweet tea was a real thing, I think it would smell like this. Devil Driver has some great genetics – Sundae Driver X Melonaide. That melon flavor sure comes through with the sweet aroma. You'll notice the consistency of this jar is not your regular form but more of a blob of goodness! Taste is just like the smell – sweet and skunky. You'll enjoy dabbing this for flavor for sure. BOTH of the RAR jars keep me coming back for more. I have to stop myself from going hard in the bucket. Grab this if you can! This def goes into the 'exotics' vac bag.
If you see anything made by RAR you need to snag you some. Big facts. I am a huge fan of this Devil Driver and look forward to future drops. This jar easily gets a score of 9 🙌🙌
#dabs #rosin #review #cannabis #hashrosin #rosin #rareairrosin #terpenes #devildriver #Solventless #extract #solventlessconcentrates #concentrates #puffco #proxy #puffcoproxy #NCdabs #ncrosin
🧊💧#️⃣ ❤️
Stash - Opinions - Logbook
Learning along the way
Instagram: https://www.instagram.com/nc_rosin_reviews/
Advertisements