Concentrate Review: Girl Scout Cookies (GSC) Shatter
Little secret… 🤫
•
This GSC shatter is our first actual attempt at concentrates.
Lineage/Genetics: OG Kush x Durban Poison
Original Breeder: Cookies Fam Genetics
Girl Scout Cookies (GSC) Shatter Review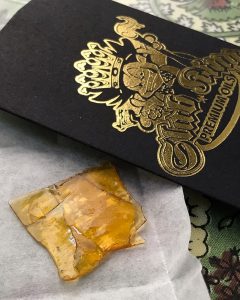 And we are LOVING IT! 🤩🔥🍯
With all these warning signs about fake carts and vapes going around, we've decided to try something different!
•
Picked up 1g of GSC shatter and we've been putting it on top of all of our bowls! 🙌🏻🍪 (Sadly need to go get a banger for our piece before we can dab)
•
Can I just say… we've never been so high in our lives!!! ☠️ Oh my lord!
LIKE WTF WERE WE WAITING FOR?
Someone please slap us! 😂😣🍯💕
________________________________________
#stonercouple #weed #weedgirls #girlswhosmoke #weedsociety #weedlife #420 #420girls #slab #shatter #ganjagirls #cannabis #ganjagoddess #THC #weedgirls #stoned #stoner #stonergirl #stonerchick #weedstagram420 #topshelf #nugstagram #smoketrees #wax #bongrips #bong #atlanta #blazedbabes #nugshot #nugs
Advertisements