Cultivar Review: PYT JACK by Cactus Farms (Travis Scott)
Sunday SAP — I'm fairly disappointed with this batch of PYT JACK from Cactus Farms x Connected Cannabis Co.
Lineage/Genetics: Unknown
Original Breeder: Unknown
Grower: Cactus Farms
Terpene Profile: Unknown
PYTJACK Cannabis Cultivar (Strain) Review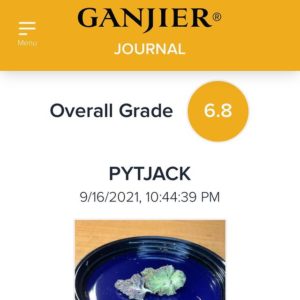 It's my third lowest rating. No top shelf flower should ever come in a plastic bag, especially at this price point, and the clear window is a huge WTF. In all fairness, it does have some visual appeal with both purple and green nugs.
That's about where my interest was piqued. The trim was very heavy handed, and the aroma had this sort of chemical sweet thing, but I couldn't quite nail it down. Glycol, maybe licorice, and hint of some kind of stone fruit?
I have a headache from smoking this, I'm not high, and the ashes are mostly black (not flushed). Everything about this batch feels rushed and I'm pretty upset about spending so much on it. The upside is having an entry to calibrate that part of my assessment spectrum, so at least I've learned something from it. #ganjier #cannabis #sommelier
I'm a Certified Ganjier who is passionate about craft and legacy cannabis farms in Humboldt and Mendocino counties. My plant knowledge and expertise cover a range of disciplines such as history, botany, genetics, service, and cultivation while my work history demonstrates technical skills and leadership prowess.
I'm looking for impactful opportunities in Humboldt or Mendocino that will give me energy. Quality assessment is the aspect I'm most drawn to, so maintaining those skills is very important to me. Ideally I'd like to be in a role where I can interact with farmers, budtenders, and consumers, like an on-staff Ganjier at a lounge or maybe for a distributor. Being able to check quality at various stages from farm to retail shelf is huge, but at the end of the day caring about the people I work with is the biggest priority.
Advertisements