Strain Review: Animal Style by Connected Cannabis Co.
Animal Style Strain Review
Animal Style 🍃🍪⛽🍧
@connected.california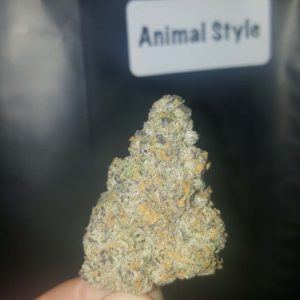 In true Animal Cookies fashion, these Animal Style nugs are colorful and frosty❄️❄️❄️ as hell. The terps are pretty complex. It starts with a bit of sweet mint, followed by cookie gas, ending with a hint of sweet gelato. I would say the terps are more largely dominated by the cookie gas, but it's also undeniably sweet. Almost reminds me of a super sweet kush mints with some gelato in it. The nugs themselves are fresh, dense, and cured amazingly. As always from the Connected and Aliens team, this flower burns clean with snow white ashes.
The hit is quite heavy but also incredibly psychedelic. It reminds me of a very heavy thin mint effect, and I'm a huge fan. I feel a euphoric numbness that starts from my head and runs through my whole body. The couchlock is real. It's hard to get up and I find myself preferring to stare at a blank wall and listen to music than to get up and cure my hunger. The mood of this hit quite relaxed and crazy trippy. This might be the trippiest cookie cross I've tried, like the double the trippy thin mint cookie feel, so much so that I guess sitting and staring at a blank wall doesn't feel so boring. It has me feeling like I'm dipping in and out of reality. It's too psychedelic for me to say that it carries an overall happy mood, but when I see, hear or think of something funny, I'm in fits of laughter. So I guess I'd say it's hella trippy and kind of happy. As a huge fan of the happy trippy vibe (one of the main reasons thin mint cookies is my favorite strain), I'm enjoying the hell out of this Animal Style by Connected. On Superbowl Sunday tomorrow, I'm looking forward to smoking a fat joint of this and having an excuse to be completely glued to a seat while happily munching and laughing with friends.
Advertisements