Strain Review: GMO x Sherb Crasher by Arbuckle Farms
GMO x Sherb Crasher
.
.
.
Lineage/Genetics: GMO x Sherb Crasher #3 AF
Original Breeder: Seed Junkey Genetics
Grower: Arbuckle Farms
GMO x Sherb Crasher Strain Review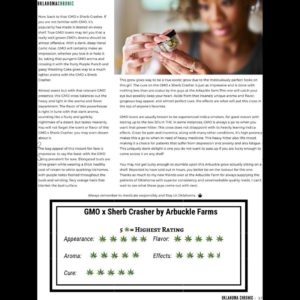 Just as the sweltering Oklahoma sun gives little reprieve, neither does the search for the outstanding. The cream of the crop, the best of the best, the most exquisite and exceptional flower in the great state of Oklahoma, is what I'm seeking this sizzling Summer. Recently, something caught my attention and kept it until it dropped. A strain that sounded simply amazing, and when I finally got my hands on this limited small batch craft grow, I knew immediately I had to share it with my readers.
This Seed Junky instant fan favorite has an awesome Genetic line up that gives way to the distinctive and intense aroma and flavor. GMO x Sherb Crasher is a true hitter without a doubt. Its Chem Dawg, Durban Poison and OG Kush lineage prove that, but throw in some Wedding Cake and Purple Punch and you have an Indica Hybrid powerhouse. This quite Exotic grow of GMO x Sherb Crasher was more than done right by the Amazing folks over at Arbuckle Farms.
Known for their simply outstanding grow of the Capulator's Cut MAC 1, among many other exceptional strains; their good neighbor reputation and being the real Boys from Oklahoma, being Oklahoma born and ran. Arbuckle Farms has been a staple in the Oklahoma Cannabis Industry since the beginning. Their highly recognizable logo can be seen State wide in dispensaries.
It features its namesake from family land owned more than 120 years around the Beautiful Oklahoma Arbuckle Mountains. As Cannabis Culture continues to sweep over Oklahoma, Arbuckle Farms has unarguably become a top contender for some of the best quality flower in the State. As the farm grows bigger; expanding its indoor grow immensely…Read the full review in the August issue of The Chronic Magazine!
.
.
#strainhunter #privatereserve #topshelf #exuisitecannabis #okcannabisculture #cannabis #okcannabiscommunity #highsociety #theoklahomachronic #okcannacritic #strainreviews #cannalifer #reviewpreviews #publishedreviews #originalreviews #notyouraveragereviews #staylit #arbuckle #gmoxsherbcrasher #seedjunkygenetics_jbeezy
Advertisements