Strain Review: PB&Jane by Lumpy's Flowers
PB&Jane Flower
Lineage/Genetics: PBB x Cherry Jane
Cultivated/bred by: Lumpy's Flowers
Terpene Profile: Unknown
PB&Jane Cannabis Cultivar (Strain) Review
Package date: 05-16-2023
Total THC: 32%
Sum of Cannabinoids: 40.39%
Terpene content: 2.65%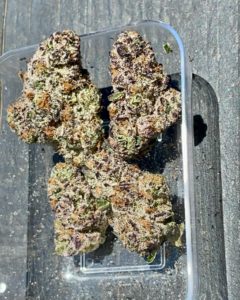 Appearance: This is some of the most
Iced out flower I've ever seen. These are virgin hand trimmed nugs with heads fully intact. These things looked more iced out than the slopes at Squaw Valley. ⛷️🏔️
Underneath the super thick coating of resin it reveals darker grapey hues accented by severe wirey rusty red pistils.
On the breakdown some of the nugs had some green poke through. It's so covered in resin the color is obscured a bit almost. Not really a terrible problem to
Have. This flower has top marks in the looks department.
Aroma: This place I picked this up from had a sample bag to smell and it immediately hooked me. Anything can look great these days but terps don't lie! And this lady has many truths to tell. It's reeks of straight up boat fuel cherry jelly and jiffy crunchy peanut butter. These are what the trappers with their spray terps wish their weed smelled like naturally. It's nutty and sweet with a delicious gassyness that rounds out the profile. There's a hint of that mentholated pinene freshness at the end but it's definitely an afterthought. I honestly can't keep my nose out of the bag with this one. Thoroughly impressed. 👃🏻
Taste/Smokeability: literally like eating a maraschino cherry on top of a spoonful
Of peanut butter that was dipped in a puddle of gasoline. Such a unique flavor profile it has me my smacking my lips. The resin that flows from the joint even tastes sweet! I tried it out of both paper and glass the flavor translates almost equally as potent which is nice to experience. Unlike the smell the boat diesel and peanut butter flavors are up front with a little piney essence but it finishes sweet cherry jam preserves. The ash is pure as the driven snow. Decent oil ring but not too crazy but it burns really clean and smooth. Minimal expansion that I noticed.
Effect: This is heavy and relaxing. It's still very early in the afternoon but I'm feeling coaxed towards Nap City. It won't happen but it definitely makes me feel a bit sleepy. 😴 Aside from that it has some pretty noticeable painkilling properties. The pain in my feet feels a lot better and my appetite is definitely stimulated. I have a steak I need to marinate but after that I will hunt down some much needed sustenance. Probably at the taqueria around the corner. This is some lazy Sunday weed for sure. I wouldn't put this in the wake and bake category only because it seems to slow thought processes a good amount. This one invokes a noticeable head change that really makes you sit with it while it's at its peak. A lot of metrc flower has crazy numbers on the COA but this one seems warranted.
Overall: I've been meaning to try Lumpy's flower for a long long time. I don't know why I haven't had them before since they are a household name at this point and they're from my hometown of Sacramento. This is some exceptionally grown beautifully flower hand trimmed to perfection with a nose to die for. I'm not often this impressed but right after I smoked this I just want to go to the shop to get another bag because I just want to covet it like some kind of nug hoarding dragon. 🐉 Honestly you can't go wrong with this one. If you see it try it. 🤙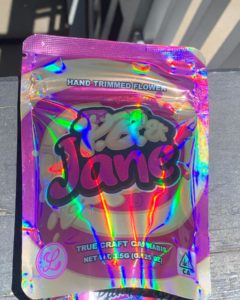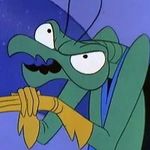 Judah Terpson
Lover of all things green & fragrant. Reviews connoisseur cannabis products. Picture shown are hemp and NFSOT. Everything for the love of the plant.🌱🌞
Advertisements