Shane Gary of Tall Tree Society shares his cannabis story
Shane Gary is the CEO of Tall Tree Society – a regenerative farm in Mendocino County's Redwood Valley. They are Sun+Earth certified and have the explicit mission of leaving their farm better than they found it. Earlier this summer, I met Shane at the Kind Bud Campout where Tall Tree Society was one of the hash sponsors of the hash bar and Shane was on site sharing his organically grown single source rosin.
Let's get right to it – check out the interview below.
Tall Tree Society CEO Shane Gary Interview
Can you share a little with us about your history with cannabis?
My history with cannabis goes back to my time spent growing up in michigan. I didn't start smoking till around 16 when everyone started to get licenses. My time was then spent running around in the woods and cruising backroads smoking "reefer" with homies. After finishing high school in grand rapids I moved to Montana for university to start a thorough investigation and experimentation of substances and ski a little along the way. My time in the dorms was spent peddling bags and trying to stay in school. Immediately upon moving out I started growing first in a closet, then a bedroom, then renting a house for it, the progression continued. I finished school in CO and saw the cannabis scene emerging quickly. I eventually started coming to the sierras to trim and then manage the property and eventually get my own here in Redwood valley. It all quickly progressed with a fascination of the plant, the science around it, and the community behind it.
What's the oldest cannabis product that you've consumed and how? How was it? 
Oldest cannabis product I have smoked is a temple ball from the 90's that an old head had during one of the cannabis and hash classes that we have onsite here at the farm a few times a year. It was wonderful, tasted great and burned well.
What are some of your favorite cultivars? 
I like it all but I especially love a good cheese/GMO/Chemdog funk. They also make great hash which is preeeettty nice.
What is your preferred method of consuming cannabis? 
Spliffs in the morning and dabs at night!
How would you describe your mission and vision in the cannabis space? 
Leave this farm and property better than I found it and grow some quality organic cannabis along the way. We grow cannabis in the native soil and under the sun with organic inputs by workers paid a living wage. I would say my vision for the cannabis space is a little bit more education about the importance of growing practices that produce the product being consumed and the idea that terpenes and the spread of cannabinoids are vastly more important than just the THC content.
What would you say you are focused on nowadays? 
Conducting the orchestra while bailing water out of the ship and trying to figure out the correct direction to sail in these crazy waters.
Besides cannabis – what else do y'all have on your farm? 
We have pigs, goats, vegetables and fruit trees, a growing apiary/bees, as well as chickens.
Would you like to share a funny story from the legacy days? 
One of my favorite memories was our inaugural slip n slide. We would use a couple hundred feet of blackout tarps at the local reservoir to create a slip and slide once a year with a large jump on the end. Dubbed the slip and bleed, this turned into a yearly festivity that would always start with us sending ourselves down the bumpy rock filled plastic dirt gutter with 5 gallons of water carried from the reservoir hurling at fairly rapid speeds to only realize we built the jump too steep.
In the classic /r/trees scale of 1 to 10 high, how high are you right now? 
Solid sixer.
Are there any other projects, yours or others, that you'd like to shout out? 
Everyone should get bees and if you grow weed, start making hash!
Is there anything else you'd like to share with The Highest Critic readers? 
Thanks for the support everyone wouldn't be doing this still if it wasn't for the community, passion, love from everyone and this wonderful plant. And if anyone's around Norcal and wants to come see the place, we do onsite farm tours as well as right off the farm single source delivery to the area surrounding Redwood Valley!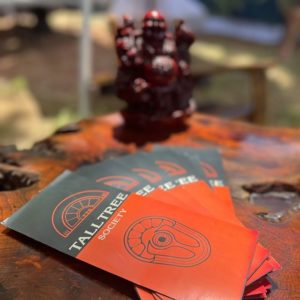 Thanks to Shane for this interview. If you'd like to schedule a farm tour, reach out via Mendo Experience.
Check out Tall Tree Society at their website: www.talltreesociety.com!
Advertisements