Cannabis Culture Japan: An interview with a THC-H Dab Bartender
You can legally take dabs at this bar in Japan, for now.
Cannabis as most people know it is illegal in Japan. THC is illegal, whether it be D8 or D9 or D10. However, THC-H is currently legal in Japan and there is a shop in Amerimura, Osaka where Japanese and tourists alike can take dabs and smoke dubs called Cannabis Culture Japan (CCJ). VICE calls it a loophole but CCJ sees it as a a monetary opportunity and an opportunity to do away with centuries of Western brainwashing which has stripped Japan of its rich cannabis history. After all, one of the earliest sites on the archaeological record of cannabis is from Japan in the form of cannabis seed imprints found on pottery shards attributed to the Jomon period in Japan prehistory to a site dated to 8200 BCE. For more on Japan's rich cannabis history, this piece from the Japan Times is highly regarded.
Suffice to say, CCJ is a unique and unexpected example that cannabis culture cannot be squashed by petty regulations and miseducation and will sprout up like a proverbial weed. Don't believe me? Check out this vid.
看板を動画にしてみた。
思ってたよりデカくて良い感じ。
@CCJamemura pic.twitter.com/4HT62SKaur

— Mag (@magknockout) February 24, 2023
As CCJ proudly announces in their Instagram bio:
"CBD, THCH, Edibles, Vape etc日本初のDABバースタイル/ディスペンサリーショップ。

We're a Japanese cannabis store!

You can smoke Wax in the store, Let's get high legally in Japan."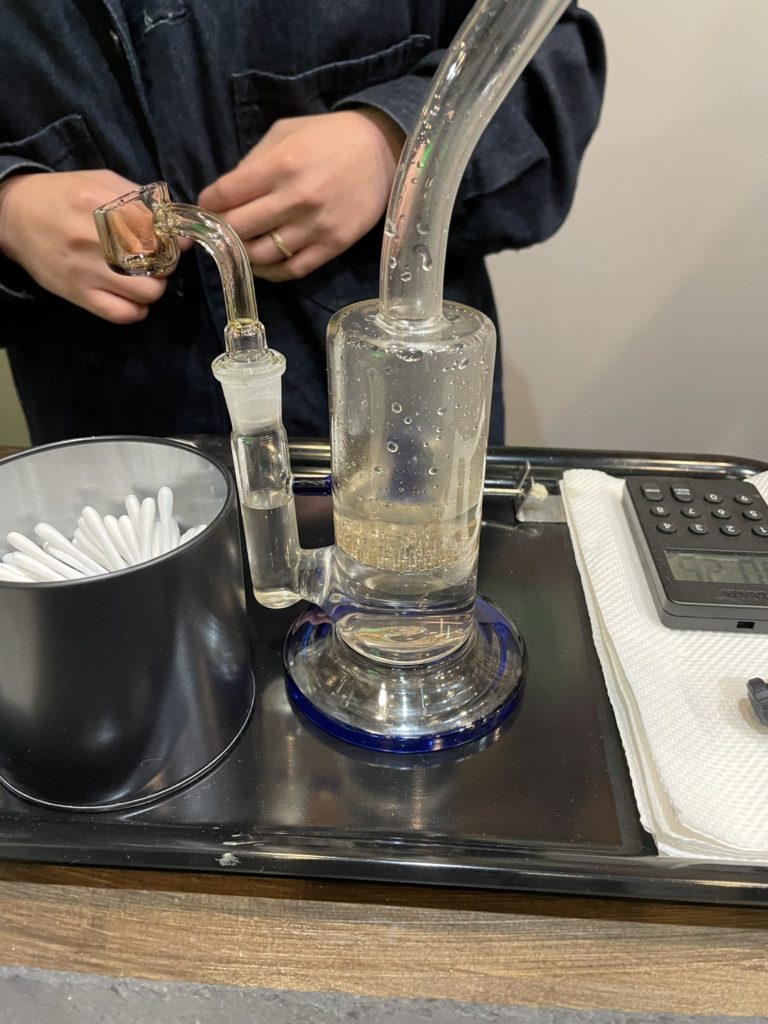 I first heard of CCJ thanks to Better Call Zoe, host of the premier Mandarin cannabis podcast in the world: In the Weeds(大麻煩不煩).
I reached out to CCJ for an interview and they kindly answered my questions about Japanese cannabis culture, and their store. If you'd like to try the undeniably synthetic, unknown extract process THC-H dabs [with no COA] allegedly legally in Japan, you now know where to go. No matter your thoughts on synthetically or hemp derived altnoids, it's pretty clear that they're part of the cannabis culture.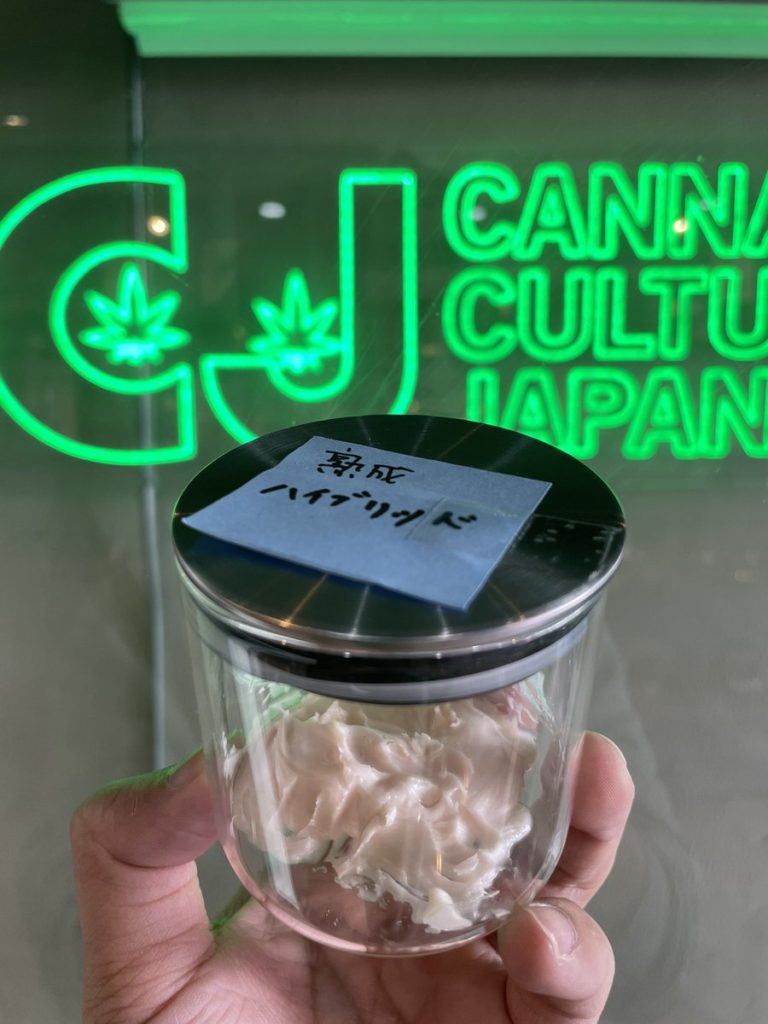 The "Knockout brand" – which looks eerily similar to a Yuri Kochiyama inspired Punch Extracts logo – "wax" is available in Indica, Sativa, and Hybrid. It's also available in carts and edibles.
PS: Proof that the Orange Turbo Group Grow is influencing cannabis culture around the world: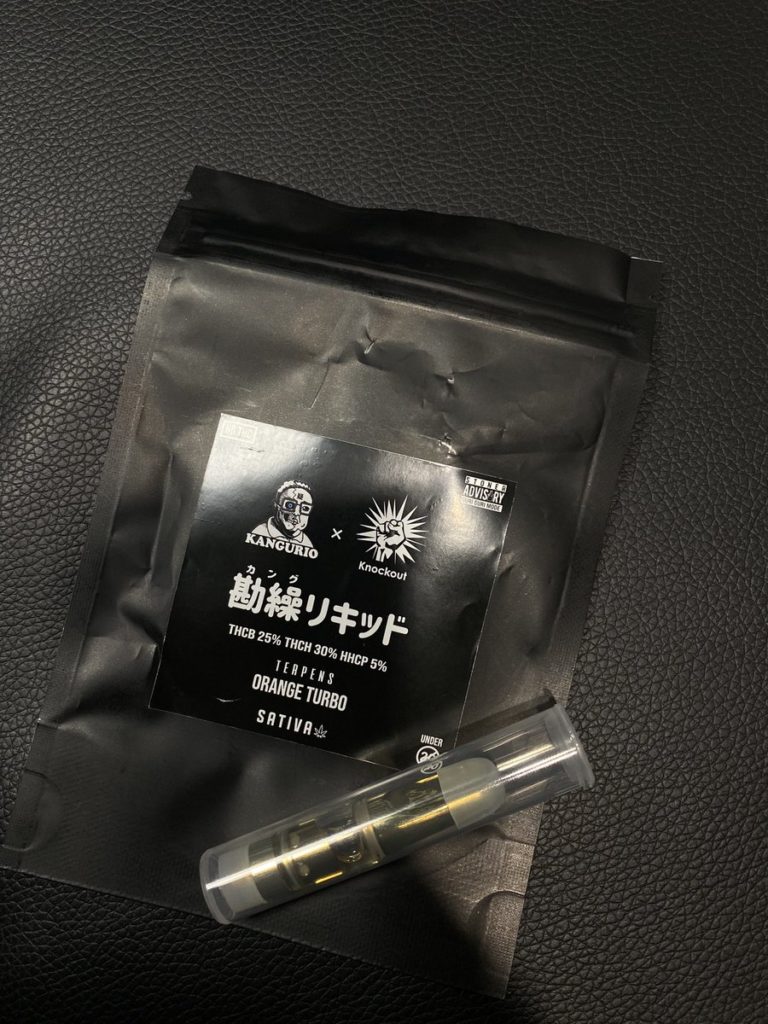 Without further ado: here's the interview.
Interview with Mr. Matsumoto from Cannabis Culture Japan
Q: What kind of people come to your store?
A: 50% Japanese, 50% from overseas.  In terms of age, customers are a wide range of people in their 20s to 50s.
Q:  Why did you start CCJ?
A: Initially, we only sold online, but we decided to open a store in Americamura, the center of Osaka, for order to raise public awareness.
Q: What is the cannabis culture in Japan?
A, Since ancient times, Japan has held events to worship hemp at shrines, etc., and cannabis culture has been rooted in Japan since ancient times.
Q: What's the best thing about spreading cannabis?
A: It is to have you smoke.  Japanese people work hard and think relaxing with cannabis is good.
Q: Do Japanese people know about the long history of cannabis in Japan?
A: Since GHQ's ban on cannabis, the wisdom of Japanese people about cannabis has stopped.
Q: How long is the average time spent in your store?
A: 1-2 hours
 Q: How does the THCH dab high compare to a "regular THC" dab?
 A: THCH is said to be 20 times more effective than THC.

Everyone is very satisfied.
Q: What extraction process is used in your concentrate?
A: unknown
Q: Are there any local glass blowers in Japan?
A: unknown
Q: What do you want to do at the store in the future?
A: I would like to invite foreign people and the media to revive the Japanese cannabis industry.
Q: Should regulations change so stores can expand their offerings?
A: unknown
Q: Where are your products sourced from?
A: We source products from the Knockout brand.
Q: Have you ever toured a facility where cannabinoids are made?
A: Yes, I witnessed an environment that made me think of agriculture.
Q: Are these cannabinoids of synthetic origin or cannabinoids derived from hemp?
A: I use both.
Q: Do the products in your store have a COA (Certificate of Analysis)?
A: We keep it in our company, but we do not post it.
Q: Do you have any words for cannabis users who want to visit Japan?
A: Cannabis Culture Japan is the only place in Japan where you can smoke dub.

We will satisfy you 100%.

Please come!
Pictures from CCJAmemura Twitter.
Advertisements