David Fink of Down OM Farms
I met David Fink at Emerald Cup Harvest Ball 2022. He was on the side of the Farmcut booth in the Small Farmers Initiative area (the go to area during Emerald Cup) with bright colors and a bright smile. One of the smallest legal farms in California, Down Om is a down-to-earth farm ran by David Fink. He agreed to do an email interview so leggo!
Brand: Down Om Farms
Website: https://downomfarms.com/
David Fink Down Om Farms Interview
How did y'all come up with your name?
It's a multi layered Pun and play on words….

Down OM/ Down hOME… OM because I'm a fan of eastern philosophy and a former yoga teacher.

Also, OM stands for Organic Matter in soil nerd realms… so it all about putting Down the OM.
When did you start using cannabis?
A bit too young I think…. About 12 years old.
How did you learn how to grow?
I fell in with a crew pretty young in NY that did some backyard plants and leveled up over time.
What are your favorite cultivars to smoke?
Chemdog… number one forever fav.
What are your favorite cultivars to grow?
Chemdog is pretty high on my list of favorite plants to grow but I must admit some of the more modern genetics certainly look beautiful… all the purple hype.
Location
Northern Sierra Nevada Foothills of California

(San Juan Ridge, Nevada County, California)
Where are y'all based out of?
I'm originally from NY but we reside ON our farm in California.
Do y'all use clones?
Yes and seed.
Where do you usually get your seeds from?
Symbiotic Genetics is a favorite.
Do y'all do any of your own pheno hunting?
Every few years I'll hunt for some winners.
Do y'all do any of your own breeding?
No, our micro scale doesn't really allow it.
Describe what makes y'all's grow different?
Down OM farms creates all of its own worm, castings, and compost on site with the help of our Alpacas. Implementing as many close the loop and regenerative practices, including cover, crop rotation, and no till. We are one of the smallest permitted farms in the entire state and country.
Tell us as much as you'd like about your light setup
All natural, no lights
Tell us as much as you'd like about your soil/medium
Living soil and Hugelkuktur methodology builds rich, dark, humus soil.
Tell us as much as you'd like about your nutrients/amendments
Compost and worm, casting applications annually, maintain our fertility.
Tell us as much as you'd like about your IPM methods
We plant massive hedges throughout and around our Gardens that become beneficial insectaries and havens for predatory insects to protect our gardens.
Tell us as much as you'd like about your flushing process
When utilizing living soil, flushing becomes obsolete. I take care not to over fertilize therefore, there is nothing to flush.
What percentage of canopy is reserved for RnD?
Sadly, only a couple plants yearly are for experimentation.
Tell us as much as you'd like about your drying/curing process
Producing such small batches allows us to control the temperature and humidity throughout the drying and curing process. Maintaining constant cool and dry is important.
Which labs have you found pleasant to work with?
I use my local lab called The Higher Commitment in Nevada city
Tell us as much as you'd like about your trimming process
We generally hand trim all of our product that goes into our House Brand called Alpaca  powered flowers. Additionally, we are part of a collaborative effort, called Farmcut, which is minimally processed, also done on sight by us.
Do y'all do your packaging in house or use a partner?
We generally package things in-house, but occasionally will partner with a local manufacturer or distributor to get the weed in the bags
What is your packaging philosophy?
We do only small batches and put all of our best into our brands. Using that platform to reach out and directly educate are consumers is our highest goal
What do you do to try and ensure that your product isn't ruined by intermediate parties before it gets to the end user?
I maintain constant oversight of the distribution network and maintain sales relationships myself.
Do y'all make any extracts with the product? Tell us about that.
We do some WPFF rosin with a few friends. Just for inner circles.
What events do y'all like to attend?
All of 'em that invite us!
What would you say sets apart your brand from others?
It's real, it's authentic. Alpacas are the core of our farm and we want people to understand how and why.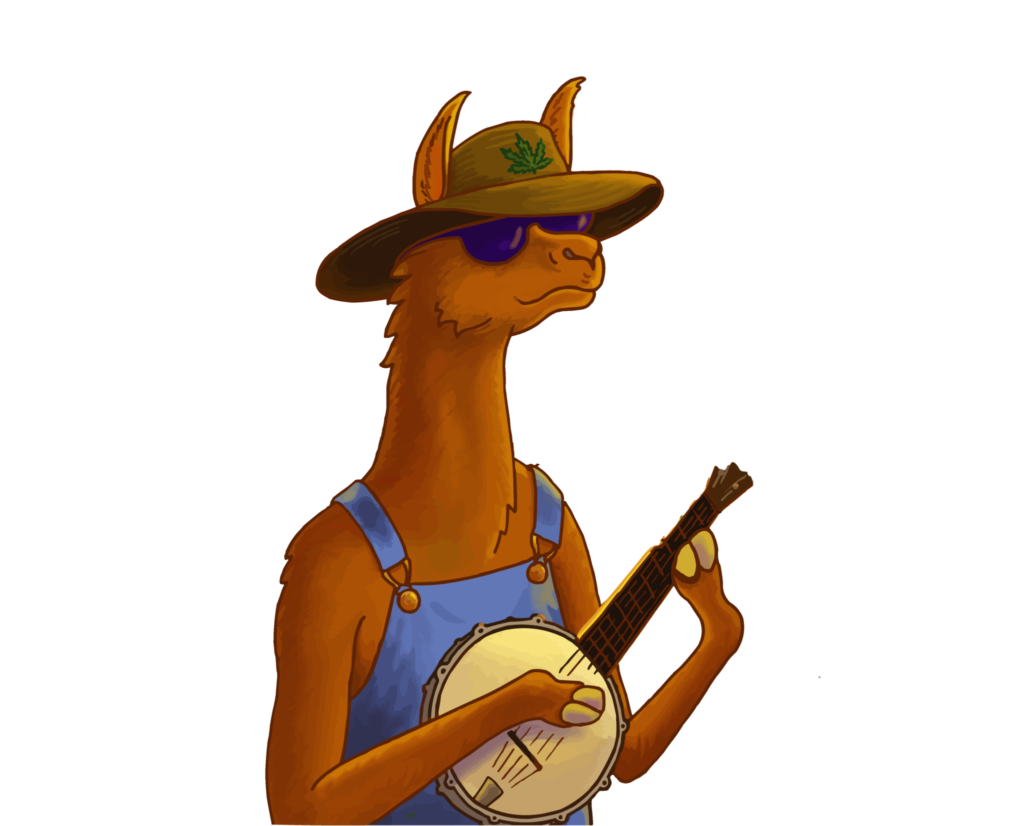 Advertisements