Check out Haiku Hash: Heritage Hash Co.'s new bubble hash line
Haiku Hash is a new hash rosin brand launched in October 2022 created by the OGs at Heritage Hash Co.. If you're a sungrown hash head – this just might be the launch of the year.
Grower: Variety of local growers
Processor: Haiku Hash aka Heritage Hash Co.
Heritage Hash Co. Launches new bubble hash line
Steve, a Hashishin at Heritage Hash, explained the motivation behind the release of the new brand in an Instagram post:
"When I made the decision to enter the white market in California, I made the decision with one large reason in mind: to be a Hashishin for the people; to help people enjoy fine quality resin for an affordable price. With the Covid pandemic, inflation of gasoline prices, and numerous other reasons life throws at us all, many of us are unable to afford high quality full melt Hashish regularly.
Haiku Hash is just the beginning of Heritage Hash Co.'s new ventures. He continued:
"Your Friendly neighborhood Hash makers at Heritage Hash Co. (@heritagehash.co) have been keeping busy indeed and the release of this new "sub-brand" is just one of many achievements to come."
What farms does Haiku Hash work with?
Heritage Hash is hitting the ground running with three washed and pressed cultivars from well known sungrown cannabis farms in the region.
Garlic Cookies, grown by Bon Vivant Farms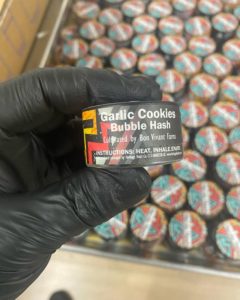 Comptche Kush – a blend from Higher Heights Mendocino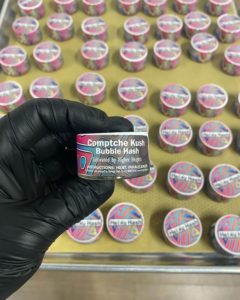 Strawberry Cough – grown by Agricola Flower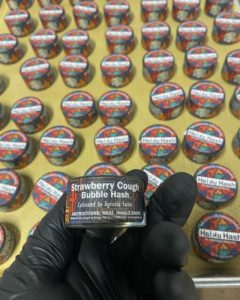 "With three flavors of Garlic Cookies (cultivated by @bonvivantfarms ), Comptche Kush (a delicious medley of flavors cultivated by @higherheightsmendo ), and Strawberry Cough (cultivated by @agricolaflower ); you'll definitely find a flavor that will ease your craving for fine terpenes at an economic price.

Not only would you have your terp senses tingling, but the "melt" factor might catch you by surprise as it did with myself. With a little body heat, little parchment paper, and a love squeeze from my fingers, the resin of two flavors so far (Comptche Kush and Strawberry Cough) flagged out and bubbled a-bit nicely on my three hole bowl!"
#emeraldtriangle
#solventless
#icewaterbubble
#ifitdontbubbleitsnotworththetrouble
#icewatersift
#economic
#affordable
#forthepeople
#ftp
#norcal
#calilifestyle
#mendocino
#mendolove
#heritagehash
#craft
#hash
#lostart
#oldways
#lovewhatyoudo
#quality
Advertisements