Fiddler's Green opens direct to consumer hemp sales on fgwellness.com
Fiddler's Green is your premier source for CBD sourced from sungrown hemp (cannabis sativa) products. They are one of the first farms to work with CBD and acidic cannabinoids – meaning they have more experience with growing hemp for CBD than most every other outfit out there. They've been at it since 2009. Whether you're looking for tinctures, hemp for pets, or topicals – Fiddler's Green has you covered with their new direct-to-consumer CBD website: fgwellness.com.
The Legend of Fiddler's Green
Fiddler's Green is an afterlife from sailor folklore. Legend has it that after fifty years at sea, sailors are eligible to retire to Fiddler's Green – a land where the fiddle music and dancing never stop. Land hoe, it's a hoe down… An extended forever leave at port in a land of mirth. For us landlubbers, the closest we'll get is trying out Fiddler's Green green.
Fiddler's Green Sungrown cannabis ftw
Cannabis products aren't currently certified by the FDA so they can't be labeled as organic. What "organic" hemp farms do is follow the same rules and only use OMRI approved inputs. As they oft used to say: "Don't panic – it's organic." Maybe not certified organic, yet, but it's organic. Fiddler's Green is run by Cam, his wife Shannon, and his business partner Jody Starr (Certified Ganjier) making it a woman owned company and a veteran opened company.
Located in sunny Sonoma County, CA – Fiddler's Green was actually the first legally permitted cannabis grow in the county years ago. A change in laws since then has necessitated a change in business strategy. For this season, Fiddler's Green is now a US Farm Act of 2018 compliant hemp producer that can ship their hemp derived products anywhere in the country and even to an increasing number of international destinations.
Fiddler's Green solventless ftw
Fiddler's Green's infused products are made using a solventless extraction which preserves more parts of the cannabis – letting the "orchestral effect" – also known as the entourage effect or ensemble effect – play as hard as possible. As they explain on their direct to consumer CBD and hemp sales site:
Fiddler's Greens has developed a proprietary process modeled after a centuries-old infusion technique that allows us to pull the cannabinoids, terpenes, flavanoids, esters, and waxes from the cannabis plant without the use of harsh solvents or chemicals.
The Highest Critic x Fiddler's Green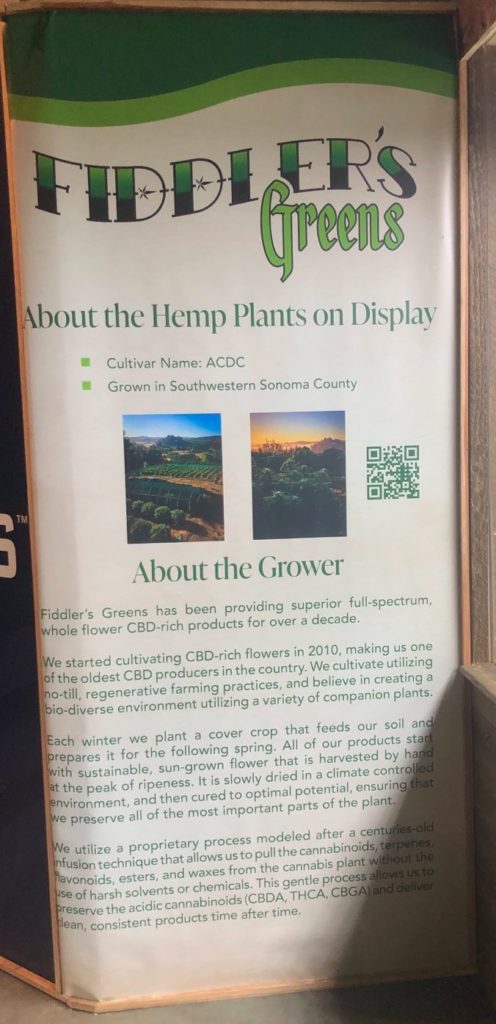 I first met Cam purely by chance. I attended the California State Fair to view the world's first ever Cannabis exhibit and one of the California cannabis companies front and center at the event was none other than Fiddler's Green.
They weren't just manning a booth at the event – they had brought several hemp plants to put on display right by the door. Thousands of people saw their first growing, non flowering, cannabis plant at the California State Fair – and the plants were from Fiddler's Green. Now anyone in the country can buy some of this product online.
Check the Fiddler's Green website now. You won't regret it!
Advertisements