Hall of Flowers 2022 had so much more than just flowers
Hall of Flowers returned for its 2022 flagship show in Sonoma County, CA. The Sonoma County Fairgrounds once again played host to an industry leading cannabis event and many from the state's cannabis industry made their yearly pilgrimage to Santa Rosa along the 101, 5, or 80. Yours truly came along the 80 from Reno to cover the action.
Brand: Hall of Flowers
If a picture is worth a thousand words, then a video must be worth a thousand pictures. Nothing shows the event better than Hall of Flowers' own video:
Hall(s) of Flowers, Dabs, Dranks, Talks, and Seshes
The vast fairgrounds were evenly spread out with three exhibit halls and a presentation hall. You could walk into Exhibit Hall C to enjoy the A/C and you might see Xzibit at the NAPALM booth. Or walk around Exhibit Hall B and Exhibit Hall A and check out dozens more brands.
Go to the presentation hall if you need to take a seat and a breather. Presentations touched and highlighted myriad subjects including social equity, cannabis investing in California, compliance, and (my favorite) Web3. There was so much to do and see that I'd say it's pretty physically impossible to catch all the talks and still be able to walk the floor. Good thing Hall of Flowers records and uploads all the presentations.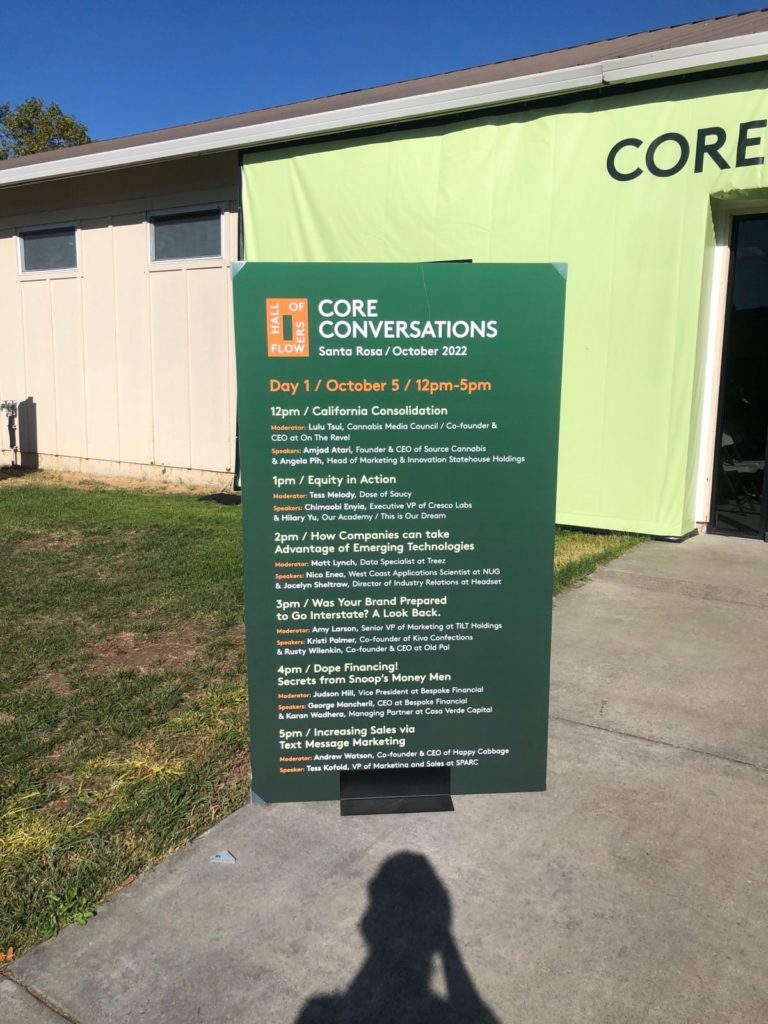 The outdoor space was utilized very well. Food trucks were on site and there were ample seats and bean bags for people to lounge on while partaking of samples. There was even a lounge area with couches and media doing interviews. Sneak peek shot of GW Smoke Break x Wood Wide Farms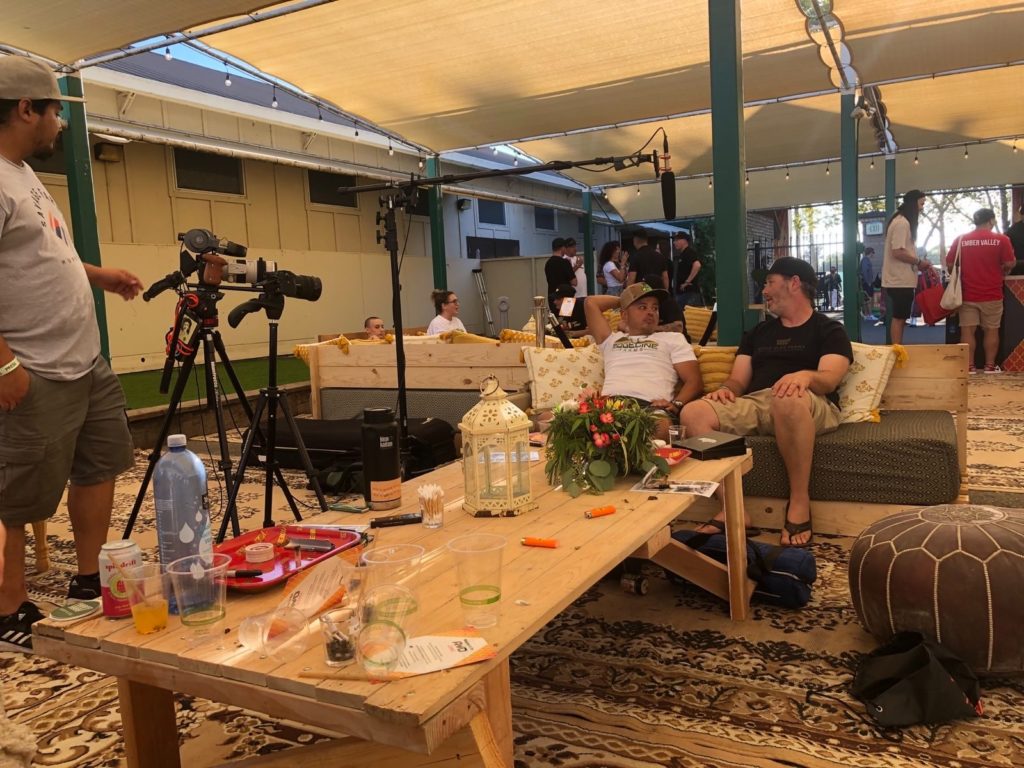 Indoor or Outdoor, it was a haze for daze. Two days to be exact. Three if you count vendor setup. I want to shout out the photo booth at Hall of Flowers with the "Proud to Work in Cannabis" background – which I ironically don't have a picture with. That's one for only the memories.
Besides Flowers, something else was making quite a splash
Drinkables. Nano emulsion. These are all new words to most but they've been floating around for awhile. Drinkables are quickly becoming some of the most successful SKUs and the amount of 5 hour energy look-a-likes is hitting a level that makes me happy for normalization.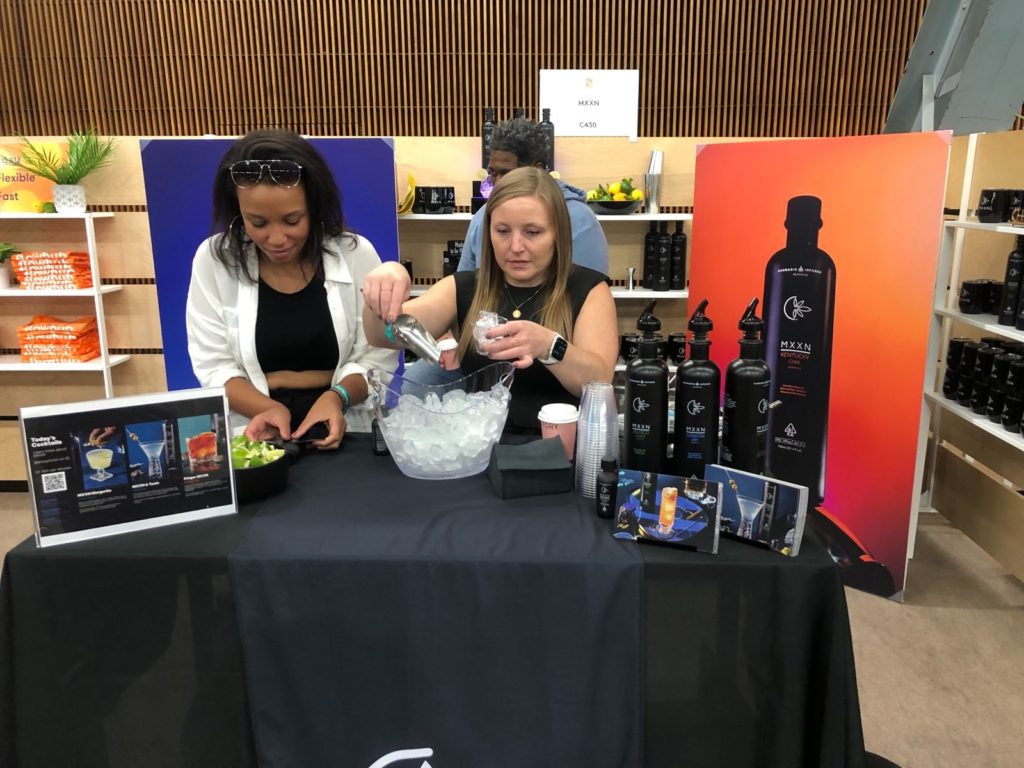 MXXN was there with gin, tequila, and whiskey alternatives that taste like the alcohol counterpart but only impart phytocannabinoids and terpenes with 0% ABV. I tried a
Pabst Blue Ribbon… the PBR – the PBR that sells for $60 a bottle in China – was front and center with an entire bar on display along with a non medicated version of their new High Seltzer. Having never drank a Hard Seltzer, I felt like I was seated in the front row of the target audience.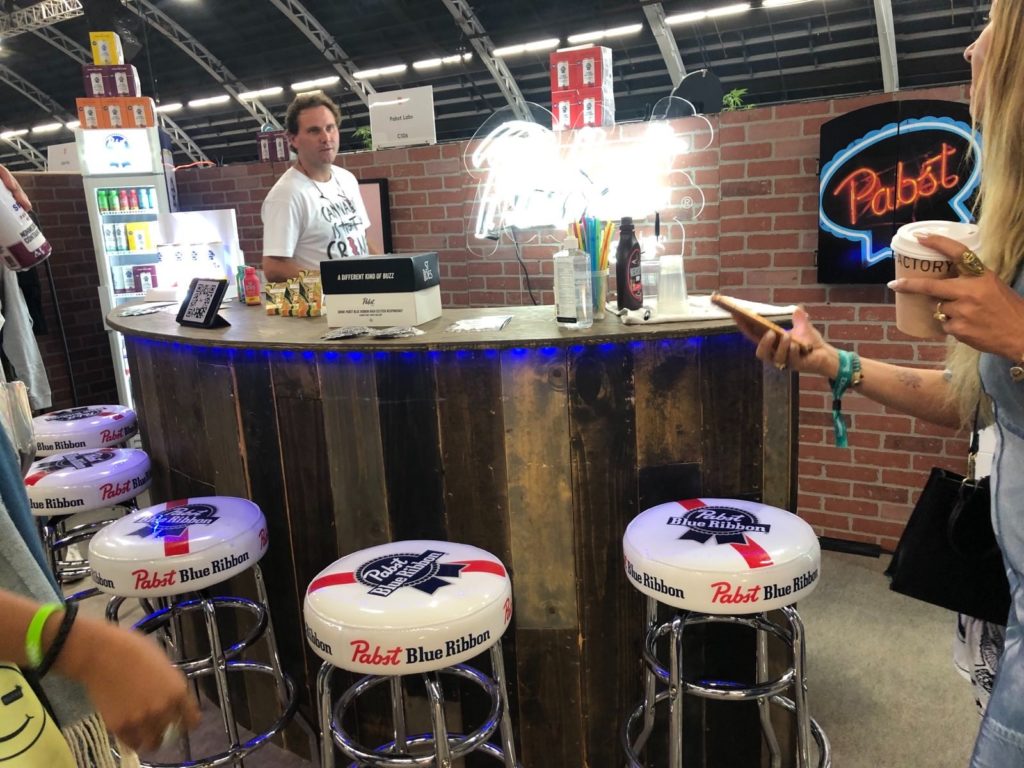 High Seltzers are coming and they are here to stay.
Now just imagine what a bottle of PBR high seltzer will sell for in China pre or post legalization.
A Haul of Flowers
Here's The Highest Critic's pick of two non-flower products for sure to generate hype new product lines that are pretty much guaranteed to make waves: Snoop Dogg's TSUMo Snacks and Doja Exclusive's hash rosins. Hype because I didn't try either.
Rosin pods are crushin' it – and I'm happy to see the tech evolve to meet the demand for higher quality. Edibles, proper sungrown, living soil, there's so much that was highlighted at Hall of Flowers that it's impossible to shout everything out. Many, many new products were introduced. For more insight on what new cannabis products are in 2022, check out THC's ongoing samples from Hall of Flowers coverage.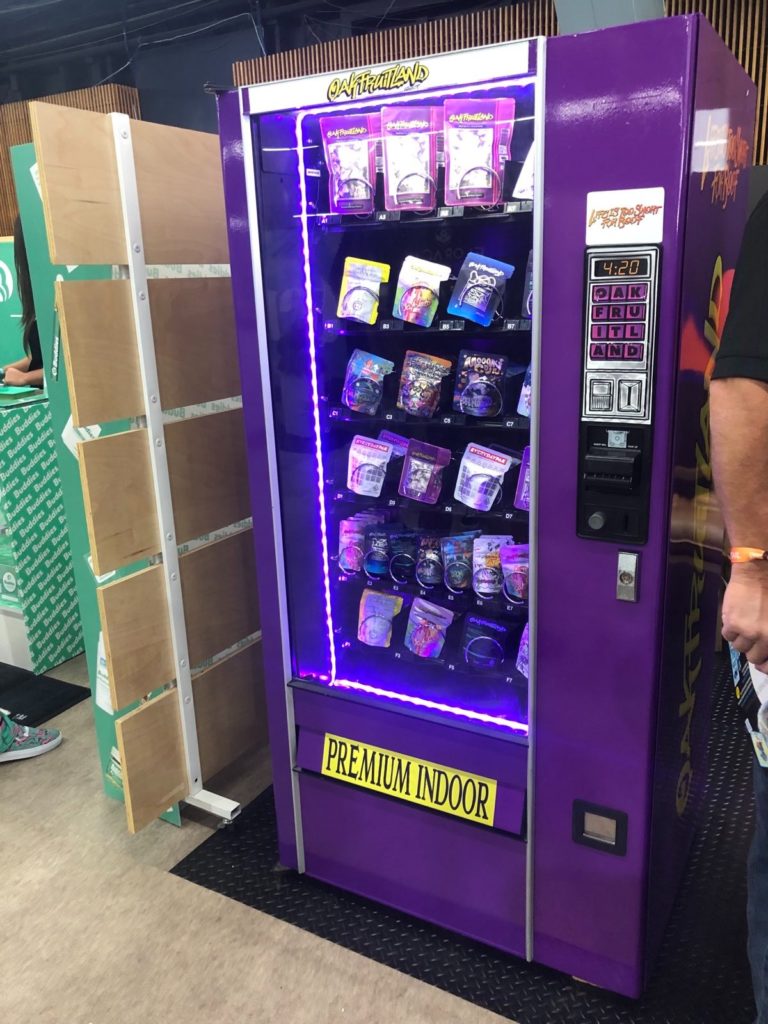 I can't count the number of times people commented on the vibe of HoF@Sonoma County Fairgrounds vs. some other event at the same location. The chatter was in agreement though; no matter the size of the turnout, Hall of Flowers is always an event to remember.
'Til the next one.
Advertisements