Sittin' in Pearadise, sippin' on Orange Soda in a Styrofoam Cup
That's the experience I had smoking the deconstructed and reconstructed international fruit cocktail of flowers from Team Elite Genetics.
I met Steve – President of Team Elite Genetics along with Brady @cali_bud_reviews at the Team Elite Genetics booth at Hall of Flowers this past week. It was my first time smelling or seeing Team Elite Genetics flower in person, I had only read dozens of reviews from Brady over the last year while lamenting the lack of a smell-o-scope tech. Finally, the stars aligned and thus begins the first in THC's Hall of Flowers 2022 coverage.
Brady made sure I walked away with the cultivars that I had been eyeing the most: Pearadise, Orange Soda, and J1.
Team Elite Genetics takes you to Pearadise
Lineage/Genetics: ( PEACH OZZ x KOSHER KUSH )
Original Breeder: Team Elite Genetics
Grower: Team Elite Genetics
Terpene Profile: Terpinolene Dominant (Terpinolene 1.06%, Beta Caryophyllene 0.51%, Ocimene 0.51%, Myrcene 0.40%, Humulene 0.24%)
I don't even know the last time I smelt so much terpinolene. Or ocimene for that matter.
When I went to the sclabs booth, they were doing an in person survey of what peoples' favorite terpene was. Turns out I was the only person to vote ocimene. Pretty sure I found the flower in the whole hall with the most ocimene, too. It has the trademark sour African landrace smell but with a fruit that isn't citrus. Truly a desert oasis with pears aka pearadise. It has the tang and mouth pucker of an unripe pear but the funk of an overripe pear. Onion pickled pear. Very OP.
The bracts are very mature and the trichome stalk coverage is really impressive. 80%+ is the estimate with the naked eye. This is the looker of the group.
When smoked it coats the mouth with a tingly pear peel feeling which slowly dissipates. This is that tasty type of weed that you might smoke in the morning and forget that you didn't brush your teeth because it taste that good and hit that hard.
The high hit me like a creeper. One second, I was still admiring the flavor on my palette and the next second, I was staring at a pile of rocks while jivin' to a new song. Bess believe I listened to whatever the youtube algorithm threw at me next, too.
I walked away from Pearadise fully rejuvenated and with one prevailing thought: I need to try the Peach Ozz and all its relatives.
Team Elite Genetics puts the soda in Orange Soda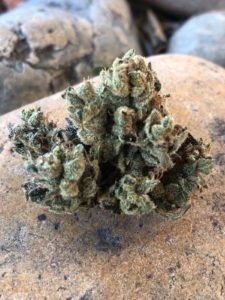 Lineage/Genetics: TANGIE X GMAS COOKIES #7
Original Breeder/Grower: Team Elite Genetics @teamelitegenetics
Terpene Profile: Unknown
Team Elite Genetics' orange soda is not stupid sticky but the smells will still get on your finger and in your nose like nobody's business. If Japanese soda candy had an Italian arrancia rossa flavor, I'd hope it smells and tastes like this.
This is an orange soda made with freshly squeezed orange juice infused with co2 via a stream of soda with a zest garnish all along the edges.
I finger ground and the smell is so sour it's like just the crystals at the end of a sour skittles bag. Yet the floral undertones remind you this is not a chemically derived acid but a truly complete smell.
The smoke is something else. Starts a little pent up musky then you taste the Italian cream soda. That citrus comes later if you can catch it. A little eucalyptus, honey balm on the exhale. The complexity is next level.
The high is so clear headed and the taste of the smoke is light body with a spritzy blast of lemon peel. I experienced time dilation hard. Life felt like I got stuck in one of those surround sound show room demos. Guess you could call it Dolpy.
The high is one track… maybe two if you're lucky. A moderate level of euphoria and a bit of an elevated heart rate. I could definitely see some people getting a racy feeling developed from that but my mind is calm. It's such a nice flavor that I would recommend it to beginners with the explicit warning not to smoke too much. The high will definitely be more enjoyed by more experienced smokers.
I enjoyed the high a lot but really the taste here is the standout. I thought I knew what a nice orange-y flower could taste like. It's like… the difference between Fanta with real OJ in Europe vs. the crap they sell here in America. Like I only drank flat soda my whole life and this was my first taste of the fizz.
Chefs PLEASE take note: This is one for food pairings.
Forget lean, put some Team Elite Genetics in your Styrofoam Cup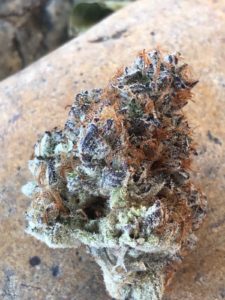 Lineage/Genetics: Gmo X Sunset Sherbet
Breeder: Cannarado Genetics
Grower: Team Elite Genetics
Terpene Profile: Unknown
RIP Pimp C
Team Elite Genetics has the gas juice. Sometimes it's even bordering on that gmo doodoo flower smell. Yet sharp and acrid in the front. This Styrofoam Cup is way different than the Pearadise, Orange Soda, and the J1. Clear on the other end of the spectrum and really showcases the range of what Team Elite Genetics can do. I walked away with tailor picked strains that I had been eyeing – once a person knows their terpene profile preferences, it's easier to find the handful of keepers from any brand.
After the phenols off gas you are left with an almost dried fruit smell under the peppery muskiness of dessert earth. If pearadise is the oasis in the desert, styrofoam cup is the dirt nap. Ume. Stone fruit earth. Apparently this cultivar is aka MSG and "oooo mami," I can taste the umami. Just like every other TEG strain, longevity is moderate and above average.
If you've ever seen me at a backyard bbq you know I am a straw biter and fidgeter in social situations. Let's just say I have bitten into my share of styrofoam cups in my day. All this to say that Team Elite Genetics' styrofoam cup tastes nothing like that.
You might catch me at that same backyard bbq puffing a joint of Styrofoam Cup while manning the grill.
The high matches this narrative – soothing to the body and calming to the mind. Euphoria and numbness combined but not to a debilitating level. You can still be social on this heavy hitter if you pace yourself.
The high is an escalator. pressure on the top of the eyes and between the ears. The body was really affected; the mind was just chugging along. I am numbed enough to continue no matter the struggle ahead. This for fucking sure is one of those "it's all good at the end of the day" strains.
As they say… "Sheesh!" to the whole lineup I tried.
Team Elite Genetics lived up to the hype. With the exception of the brands literally selling terpene extracts, of all the brands on display, I'm pretty sure Team Elite Genetics might have had the most Terpinolene and Ocimene on display – my two favorite rare terps.
PS: J1 is the fiya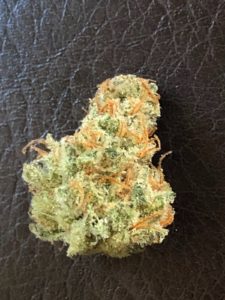 Lineage/Genetics: ( jack herer X skunk #1 ) TEG pheno
Original Breeder:: Unknown
Grower: Team Elite Genetics
Terpene Profile: Terpinolene Dominant
I think I learned more about the grower sitting there smelling Pearadise vs Orange Soda vs J1 than I did looking through the entire Team Elite Genetics website – and it's a great website. The subtleties in similarities and differences… The closest nose that I've had to the J1 is Congolese. I absolutely adore the pickled onion start of this immensely funky tropical fruit of a stank. J1, or as I like to call it – Skunk #1 and friends – smells like a scared and possibly inbred skunk lost in a very large mangosteen grove. There's nothing foul about it. Just floral, fruity goodness.
I split a J of J1 with some fellow Ganjiers and the strong flavor was enjoyed by all. Hits very smooth in the zigzag but packs a punch to the larnyx if you take a bong rip. This cultivar gets the mind rolling and I always appreciate Jack cultivars for the inertia and productivity they provide. This got me through Day 1 of Hall of Flowers with energy to spare.
Like the Orange Soda, this is one to smoke in moderation unless you know what you're getting into.
Check out a more comprehensive J1 strain review here: https://thehighestcritic.com/reviews/strain-review-j1-by-team-elite-genetics/
Founder of The Highest Critic
Unpaid /r/trees mod
Certified Ganjier
Kine bud enthusiast
Advertisements