Strain Review: J1 by Team Elite Genetics
J1 @teamelitegenetics the full 15 minute video review is on YouTube! These videos are 1st min of each 4 min video link in story highlights
Lineage/Genetics: ( jack herer X skunk #1 ) TEG pheno
Original Breeder:: Unknown
Grower: Team Elite Genetics
Terpene Profile: Terpinolene Dominant
Terpinolene: .86% ocimene: .77% Bcaryophyllene : .44% myrcene: .28% humelene: .17% TOTAL TERP: 2.91%
J1 Strain Review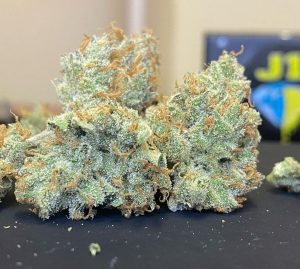 Type: full sativa
Thc: 24.18% thca: 27.13% canna: 30.25%
Terpinolene: .86% ocimene: .77% Bcaryophyllene : .44% myrcene: .28% humelene: .17% TOTAL TERP: 2.91%
Package: 11/22/21
Weight check: 100/100
3..56> 3.50
2017 HTCC 🥇
Aroma: 96/100
Herbal musky skunk haze; with a strong lemon candy, peach sweets, citrus sweets, but it has that same extreme bizarre heavy pungent kerosene chemical smell that all the other TEG strains I've tried has.. literally burns your nostrils and lungs.
Appeal: 96.5/100
DELICIOUS Long stretchy nugs, of light green, neon greens, and yellow, with a white coating of trichomes with huge heads & it's Gnarly wild wavy glowing pistils give it an exotic sativa look. Leaf to nug ratio is big time leafy, but with a killer cure that leaves it sappy sticky and moist af. Resinous!
Smoke & taste: 93.5/100 @diamondglassinc
This was fresh af 95% white ash. FAT OIL RESIN DRIP. DRYPULL: lemon peach pear herbal musk, haze, cheese, citrus &Musk. TASTE: herbal musk. Herbal spice, herbal haze, which I wasn't smelling so much, but then the lemon candy, peach and pear terps come out with a general herbal skunky dankyness. Pungent chemical layer
Effects: 96.25/100
I was shocked at the effects of this, totally opposite of what I expected. Body relaxed, and melty, headband around eyes and face. Body numb, mind slowed, but your mind SOO crystal clear like the warm buzz wraps your whole body except your face and mental clearness. Insane. Very rare buzz with the overall cloudy sensations in the body and the mind but the mind is actually super clear at the same time. Bery Trippy buzz but nice. Might actually be better for after work!
Potency: 95/100
Very potent. Quick buzz. Chronic! 3 hour stone, effects to potency was a back and forth battle coming in waves but pretty equal. Cloudy, but clear headed.. relaxed, but energy, such a smooth buzz!
Overall: 96.25/100 EXCELLENT STRAIN. My new favorite just cuz the effects and freshness, but Pearadise my fav look smell and taste !
J1 Strain Review (4/22/22)
J1 STRAIN REVIEW
@teamelitegenetics
Feb batch, the newest batch tests even higher and has even juicier bigger nugs. Terpinolene & Ocimene dominant! Rare terps = Award winning flavors
Aroma: 96/100
Chemical, pungent, fuel, skunk, Lemon citrus, & light peachy apricot, Very sugary slushy candy terps, and some gummy worm candy also. Behind that layer is a combo of herbal spices, and sweet crisp florals. Lightly musky & funky. Skunky & Gassy w/ some diesel
appeal: 97/100
7 nug eighth, nice sized nugs. Insane appeal, organic leafy & open sativa structure, made of CHUNKY LEAFY LAYERS DENSELY stacked on top of each other. No pgr density. just chunky nugged leaves covered in cluster-chomes. Long wavy stalks & Huge wet heads. Moist, sticky, greasy, sappy & resinous. Greens to light greens, yellow & orange tints from burnt tips, & insanely long rusty orange pistils! Crisp clean snaps from a proper dry/cure reveal the beautiful chunky dense leafy structure and exotic inner trichs!
Dry pull: 96/100
Pungency, chemical, lemon / peach & gummy worm, herbals, florals, musky cookie funk,
Smoke 95/100 taste 97/100
Clean pure fluffy White ash, huge thick clear wet resin layer, with motor oil terp ring riding tight to the ash line. Burns even cleaner as it goes, and the terps get tastier each puff. The roaches are amazing! Chemical pungent lemon and peach slushy gummy worms, skunky herbal musky cookie spice, sweet crisp florals. Skunky Gassy diesel.
Effect 96/100 potency 97/100
Effects hit instantly, strong sativa vibes, uplift, creative, social, & energy/potency rush. Thoughts are flowing But with a background calming relaxation. Body has a strong buzz, relaxed, melty, little energy & strong chest and stomach rush, both light & heavy! NO ANXIETY! Lasts 3-4 HOURS, ends sleepy/hungry after the rush wears off
Overall: 96.4/100
Insane appeal, Crazy terps, cleanest burn! Killer chronic with medicine value, entourage effects at its finest! A true cannabis cup classic! One of my highest scores!
Nothing is for sale
#calibudreviews #teamelitegenetics #j1 #strainreview
J1 Cannabis Cultivar (Strain) Review 9/29/22
J1
@teamelitegenetics
Jack Herer x Skunk1
aroma: A+
Heavy terpinolene chemical pungency combines with sweet sugary candy lemon citrus fuel. The Terpinolene / ocimene and candy fruit combo is Very similar to gummy worm terps but in a chemical lemon slushie fashion. Undertones of Tropical sativa fruits, tropical sativa herbals, light onion chemd musks, & hints of skunky cheese, Light pine, kush, & florals. Probably my favorite Terpinolene flavor variation.
Appeal: A+
Mesmerizing calyxed out leafy nugs of light greens, greens, yellows, & oranges. triangular segments & partially fox-tailed shapes build/ curl upwards to build claw like shaped smalls, & long stretching sativa/kush speared big nugs w/ exotic protruding segments. Very organic & open structured, w/ the heavy sativa traits naturally revealing a beautiful inner trichome layer while remaining naturally dense. the trichomes are perfect, wet, greasy, & sticky & in mass clusters with long wavy stalks & huge defined amber heads. Long luscious pistils escape the calyx tips. The nugs have the frozen crisp finish but are insanely sticky&sappy with a good moisture but crisp finish
Burn A Taste A
Nice white ash, w/ occasional pepper flakes. The drip off the rip turned into a nice fat dark oil terp ring. Very pleasant & satisfying smoke, heavy chemical candy pungency with the sweet lemon slushie fuel, skunky sativa tropical herbals, florals & pine. The onion herbal musk, & gassy sour danks bring it to a close.
Effect A+ Potency A
I was previously intimated by the 'full sativa' label but this one actually slaps hard & heavy & turned into one of my favorite buzzes. I do get a nice creative euphoric uplifting potency rush in the chest, but a very heavy bake & intoxicating rush rock my mind & body, extremely heavy stoneage but w/ super clean clear vibes. Real medical grade.. Powerful entourage strain. Half cone= 3+ hour strong buzz.
Overall: A/ A+
Still remains a top personal favorite, I love the calyxed out trichome saturated sativa structure & The terpinolene & ocimene rare terp profiles. @hightimesmagazine World Cup well deserved, & this round goes hard.
NFSOT
#calibudreviews #teamelitegenetics #j1
Advertisements