Hemp Seed and Pot Leaf Smoothie Recipe
Have you ever had a hemp seed and pot leaf smoothie? I love using cannabis to it's fullest extent, did you know that the seeds and leaves offer an array of amazing benefits that put cannabis in the superfood class? (That I will talk about in an upcoming blog 🤙) This is a smoothie we make daily, packed with hemp seeds and fan leaves! A great way to incorporate cannabis into your lifestyle, without the high.
Hemp Seed and Pot Leaf Smoothie Recipe: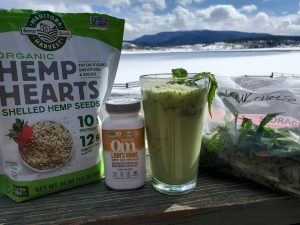 1 scoop of any vanilla flavored meal replacement powder
1 teaspoon of matcha powder
Some Ice
8-10oz of Almond & Cashew Milk
1 tsp vitamin c powder
3 tsp of shelled hemp hearts
A small handful of cannabis leaves
Blend it up!!🌿
Enjoy 😊
HUGE s/o to my grower friends who've gifted me so many of their extra fan leaves and sugar leaves to make yummy super-cannabis smoothies (you know who you are) 🙌
**NEW POSTS** COMING SOON!
Again, please reach out to us on Instagram, or our website (link in bio) with ANY of your cannabis questions.
Stay lifted canna fam 🌲
.
.
#lifted #highlife #coloradoweed #quarantine2020 #quarantine #stayfit #cannabiscures #isolation #active #weedpics #weedscience #themoreyouknow #knowledgeispower #cannasmoothie #hemp #hempheals #weed #cannagram
Alejandro Perez is the owner of CannaQuestions, an educational community for cannabis consumers. Find his page on Instagram @cannaquestions, or visit the official website cannaquestionsofficial.com!
Advertisements