CBD Review: CBD + Curcumin Softgels by Seven Wellness
Seven Wellness is a CBD brand that carries a wide range of CBD products that have been formulated to have maximum effect. They carry CBD products you've heard of like CBD oil cartridges and CBD oil tinctures but they also have useful combinations that I personally hadn't considered before that I've now added to my routine. What did I add? Seven Wellness's CBD+Curcumin Softgels and I really like them.
I've previously taken Turmeric Curcumin dietary supplements because I heard of some studies that showed that curcumin can aid in memory retention. As I have aged, I've wondered if my memory isn't quite the same as it was when I was younger. I'm by no means an autodidact but I've always prided myself on having a good memory – both for random facts and things I intentionally try to remember.
CBD with Turmeric versus CBD with Curcumin
Most people don't know this – and I say that because I sure didn't know until I got into the nitty gritty of the research – but turmeric might not contain as much curcumin as you think. Lots of supplements that have turmeric powder will tout all of the wonderous benefits of curcumin but turmeric powder only has 3% curcumin. That means that a standard 400mg capsule of turmeric that you might get off the shelf at your local vitamin shop would only contain 12mg of curcumin – and it isn't guaranteed that you'll absorb all of that as the capsule goes through your body. In contrast, Seven's CBD+Curcumin softgels contain straight up curcumin, not tumeric, and it's already liquified and ready for your body to absorb. This is CBD + Curcumin, not CBD + Turmeric powder. It's the real deal.
Seven Wellness CBD + Curcumin Softgels Review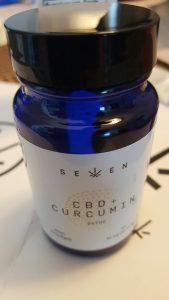 The softgels come in a blue/purple glass jar with a black cap that helps protect the contents from UV damage – which all cannabis products are at least a little susceptible to. The softgels themselves have almost a greenish hue to the amber color and aren't too big – which was my main concern when I ordered them. Each bottle comes with 30 softgel capsules and they each contain 25mg of CBD and 10mg of curcumin.
Swallowing the CBD + Curcumin softgels wasn't a challenge at all. They're even small enough that you can dry swallow them if needed – though I have always done it with a glass of water. Two at a time is no problem at all. I tried one day with two and it was honestly a little too much CBD for me. I prefer taking one per day because 25mg of CBD is perfect for me.
It takes about an hour for me to start feeling these softgels – which is longer than oil tinctures that enter the bloodstream sublingually. I use edible CBD to help deal with lower back pain and it helps. CBD is the perfect way to deal with inflammation for me and softgels are a great way to get that anti-inflammatory effect to every part of your body. Besides the physical effects, I personally enjoy the sense of relaxation that I get during a day in which I take CBD. Add in the anti-inflammatory effects of the curcumin and these softgels hit harder than my previous CBD routines – plus there are other not immediately feel-able health benefits that the curcumin provides, as well
Anyone that has thought about taking CBD or turmeric supplements should jump on this opportunity to take both at the same time in one convenient softgel. I've lived life before where I had a dozen supplements to take in the morning and having one softgel or capsule that just contains it all is ideal. Since everyone's vitamin needs are different, it's hard to have one pill to do it all so cutting pill count in half by combining two in one is better than nothing.
Shop CBD Capsules at Seven Wellness – Looking for a Seven Wellness Coupon Code? Sign up for their email listing for 10% off your first order from Seven Wellness!
Advertisements