CBD Review: Vegan CBD Gummies by Calm by Wellness
CBD gummies are a dime a dozen – not in price but in availability. How do you choose which CBD gummy to use for your calm and wellness that actually tastes good and is effective when there are so many to choose from? One way is to try them all yourself – another way is to take the advice of someone who has tried them all – or at least use their review experience to narrow down your own list of ones to try.
Let me tell you that Calm by Wellness is one of the brands you need to try for CBD gummies and CBD tinctures including CBD sleep tinctures. Though this sample was full spectrum, Calm by Wellness now uses broad spectrum hemp extract in their CBD gummies to but make sure that there is 0% THC – other full spectrum products often leave a little, legal amount of THC but even that may be too much THC for some users – that's why Calm by Wellness makes sure their products are THC-free.
Calm by Wellness CBD Gummies Review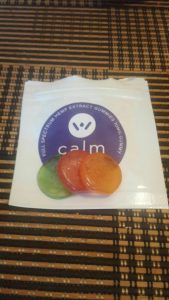 These Calm by Wellness gummies are delicious. They're the type of gummies that you don't want to chew because you'd rather eat it like a jolly rancher and turn into life-giving juice in your mouth before ingesting. The taste of each of the gummies carries a fruit flavor, isn't too sweet, and the green CBD gummy has just enough sour to pucker you up a little bit but not too much that you can't enjoy it. I must say that I liked the green one the most. What's best is that there's no off-putting taste of plant matter that you may have experienced with edibles in the past. At 10mg of CBD per CBD gummy, Calm by Wellness gives you the perfect dose size and had me feeling significantly more relaxed within an hour. I took one before sleeping and it was one of the best nights of sleep I'd gotten all week.
So what are you waiting for? Try it yourself, today. One cool thing about Calm by Wellness is that they offer a "subscribe and save" option similar to Amazon on their products. If you know these are the gummies for you, you can save some money and time by subscribing!
CBD Gummies from Calm by Wellness are the perfect treat to provide you with relief from pain or anxiety
Still not convinced? Try a free CBD gummy sample (just pay shipping) from Calm by Wellness to try it out!  For the environmentally conscious, Calm by Wellness even offers Vegan CBD Gummies.
Receive Calm by Wellness's Newly Released Hand Sanitizer for FREE on Orders of $45 or More! Use Promo STAYSAFEMOMS at Checkout While Supplies Last!
Advertisements