Cultivar Review: Biscotti by Fig Farms
Biscotti (motorbreath cut)
Lineage/Genetics:
Lineage/Genetics: Gelato 41 x Motorbreath 15
Original Breeder: Unknown
Grower: Fig Farms
Terpene Profile: Unknown
Fig Farms Biscotti Motorbreath Cut Cannabis Cultivar (Strain) Review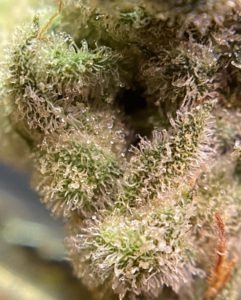 @fig.farms
Aroma: A-
Sour dank lemon skunky fuel, with OG gas, burnt rubber, & pine-diesel /light-menthol. Earthy grassy forests mixes with a musty sweaty dirty linen terp, floral but funky, This combines with undertones of fruity berry gelato cream freezer burn. There is some slight hints of herbal cookie hazelnut biscuit notes in the break up but It's mostly a gassy OG flavored variety with partial relations to the earthy side of runtz, & (strong hints) of gelato. Note: expected more "full cookie" with coffee cookie, hazelnut cream, dough,
Appeal: A-/A
Shorter wide chunky catchers mitt/ claw like/ shaped colas made from bushy triangular chunks with partial foxtailing curls that protrude outwards from the center triangle. The structure has an even mixture of nug, calyx, w/ minor larf/leafyness. It's dense but also has a partially calyxed out open structure. Mostly a green strain, with shades ranging from light-mid-dark with Occasional purps on the outers. The trichome layers have medium large heads that cluster together on the upper calyx tips. The pistils are bright burnt orange, semi-scarce, and of short-medium length. The cure is a combination of softness with a semi-hard density/thickness, w/ sticky, greasy inners with some light trichome stretch.
Burn: A- / A Taste B+
The burn starts off saltNpepper, but flushes out whiter shortly after puffing. The terp ring was drippy, the taste were almost all gas, pine diesel, burnt rubber, lemon sour danks, with undertones of the earthy grassy forest & sweaty dirty linen musk, slight fruity berry gelato cream freezer burn. & small hints of classic cookie shows itself more then the aroma. Strong terps, but the roach fades in flavor.
Effect A- Potency B+
Finishing the 1.2g cone was fairly easy, but the heavy indica effects were really up my alley, strong sedation, tranquility, calming peacefulness, w/ an initial energy & strong potency rush. 2.5hr effects before sleeping.
Overall: 92/100
the motorbreath15 overpowers the gelato 41, causing a heavier gassier version with less cookie terps. Terp Preference depends on user, but a great strain either way.
I had to trim out like 2 paragraphs but I'll try to bring some of it back from memory here… this strain was a much more gassy version of biscotti due to the motorbreath15 cross (vs the south Florida OG25 cut), it was rocking the green weed traits, with gas dominant terps, whereas the gelato 41 terps were masked a bit, & the cookie terps were hidden behind the gas. This may be what the majority would be seeking, but l love purps, and gelato/ cookie terps. Most biscottis would have a heavier dough, coffee, hazelnut, baked cookie, with a sharp gelato freezer burnt cream, but this was rocking OG gas, lemon fuel, pine-menth diesel, in heavy doses, that earthy sweet forest but dirty linen musky funk with a slight gelato freezer burn that was bringing some of the gelato to life. The quality of weed was great, good top shelf, a top choice from fig already just based on quality, but there gelato41, JOKERZ, and KYRPTOCHRONIC are more my preference for the gelato and cookie flavors. This weed is loud, looks good, & the smoke is satisfying. The ash starts off a salt and pepper with dark paper flakes but as you puff the joint the heat slowly spreads and burn those outside dark paper flakes to a whiter/grey shade. The cone burns even with a fat drip, the effects are toasty, pretty long lasting and supply good sleep. It's a solid strain all around, I enjoyed it. It's probably the 5th best I've had from fig.
Advertisements