Strain Review: Fruitridge by Doja Exclusive
Fruitridge / 🍧⛽️
Lineage/Genetics: (Gelato 41 x Motor Breath 15)
Original Breeder: Unknown
Grower: Doja Exclusive
Terpene Profile: Unknown
Fruitridge Cannabis Cultivar (Strain) Review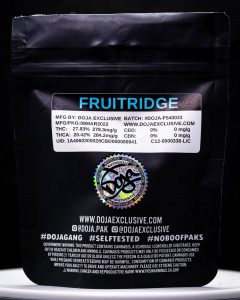 Good afternoon to all you cannabis freaks and geeks out there! I hope you all had a wonderful weekend and that your week is going well so far ✌🏻 Considering this post marks my 100th post on this page (whoop whoop!), we have a very special strain to share with you all that I was lucky enough to cop for this year's 420 celebrations – 'Fruitridge'. This outstanding bit of flower is an Indica-dominant hybrid bred and grown by one of the biggest legends in the game @doja.pak 🙌🏻
Upon opening the pack I was hit with a thick and dank wave of pungent gas with a sour, funky edge to it. The presence of the Gelato 41 genetics were fairly apparent in the aroma I was getting from this stuff – offering up its smooth and creamy characteristics. But these were drenched in a heavy coating of those strong gassy terps coming from the Motor Breath genetics. This was all accompanied by a slight twist of sour fruity notes, adding a mild sweetness with a bit of funk to it.
After grinding up some of the vibrant, trichome-covered nugs (surely a sin with weed this beautiful), I rolled up a good sized joint and took a few long dry pulls. In doing so I found my palate getting covered with a layer of dank, gassy goodness 🤤 My mouth was filled with those same sweet and sour fruity notes that I picked up on in the aroma, all rounded off nicely with that smooth, creamy Gelato profile.
After sparking up I continued to enjoy this delicious cocktail of brighter, sweeter notes, all the while noticing a gradual increase in the heavier, gassy ones. With this also came about the presence of those classic nutty Gelato 41 characteristics that gave the overall flavour a great undertone in combination with the deeper gassy notes. This stuff burned as clean as anything; nothing but a pile of white, fluffy ash through and through 👌🏻
The effects of this strain were very quick to set in – I initially felt a tingling sensation coming over me with a slight bit of pressure around my forehead. This came along with a wave of euphoria that lifted up my mood and freed me of any stress or angst that I had in me. Soon enough I had a decent cerebral buzz going that had me in the mood to get creative and do something while the sun was still shining.
However, by the time I had finished my flavourful joint, I suddenly felt this buzz shift to more of a general stoned sensation that wrapped around my body leaving me feeling very relaxed. I didn't feel hugely sedated at first, but this changed over the course of the following hour after I had sat down to watch a movie 😴 This stuff is definitely not for your amateur smokers out there – testing with an average THC percentage of 27% … She's a strong one! 🤯
Overall, this has to be without a doubt one of the best strains I have had so far this year, and perhaps one of the best I've ever had to date… It punched heavily in all areas, offering up an equally incredible aroma as well as flavour. I can't thank @_flavourbabies_ enough for gifting me this absolute masterpiece for 420 – it made it an extra special event and certainly set some high standards for the ones to come! 🔥
For those of you who haven't jumped on the Doja hype yet – where the hell are you at?!
🔌 @_flavourbabies_ 🌱 @doja.pak @dojaexclusive @doja.ek.916 #fruitridge #strain #dojapak #dojaexclusive #dojagang #noboofpacks #selftested #cannabis #weed #thc #cannabiscommunity #trichomes #cannabisculture #420 #weedstagram420 #cannabisphotography #weedpics #weedporn #premiumflower #instaweed #nugshot #macroweed #nugmag #whiteashgang #weedworldmagazine #hightimesmagazine #skunkmagazine #leafly
#macrocannabisphotography #thebudstudio
Advertisements