Cultivar Review: CandyMan by Fresh Vibez Flower Co.
CandyMan @freshvibezflowerco
Lineage/Genetics: (Runtz x The Menthol)
Original Breeder: Unknown
Grower: Fresh Vibez Flower Co
Terpene Profile: Unknown
Candy Man Cannabis Cultivar (Strain) Review
Aroma: 92.5/100
Grape ice cream, zkittlez candy florals, slightly earthy but has a heavy astringent pine-menthol layer, but it is also centered with a heavy cookie herbal layer with a light dough-mint. Light lemon cleaner hides in the pine menthol. It also has a sweaty dirty linen musk, & a light funk, possible touch of forest-swamp. Primarily cookie / pine / candy / cream. Good volume.
Appeal: 90/100
Light greens, swampy mid greens, and beiges with blue-green-purp leaves, and peachy-orange pistils, with a chrome tinted trichome layer with thick coverage, good sized heads w/ long wavy stalks, clustered in the crevices & near the tips. Pistils are mid length, with longer length exposed in the inners. The structure is densely nugged, tall stretching but chunky with a wide base. The cure leans towards the properly dried crisp side, but the trichome layer has some greasiness, a mild trichome stretch, and holds some moisture in the inner nug. Solid appeal all around.
Burn: 92/100 Ash: 90/100 Taste: 91/100 Smoke Cleanliness: 87/100 Flavor Retention: 92/100 Terp Ring: 91.5/100
White & dark grey ash with light outer pepper, nice drip off the rip. Taste is strong cookie, herbal spice, pine-menthol, dough-mint with candy cream and Runtz undertones. The sweaty linen floral musk turns to a gassy shoe leather / rubber / freezer burn ice cream fuel. The smoke is pretty clean, taste are clean, but a small throat-bite is present. The burn stays pretty clean & flavorful to the ending but the pepper/bite increases a lil bit after the half way mark. Terp Ring started as a fat oil drip ring but turned into a shiny greasy wet resin layer ring at the half way. Very satisfying session overall.
Effect: 93/100 Potency 92/10
Nice head band, & low red eyes with a nice heavy bake. It's has a slight euphoric uplift with good mood boost, but it's mostly indica heavy. Relaxing, & Stoney, 2.75 hour buzz of strong strength. Body buzz is melty and semi-couch locked, but can definitely get up and go if I need to. Clean buzz with good strong strength.
Overall 91.75/100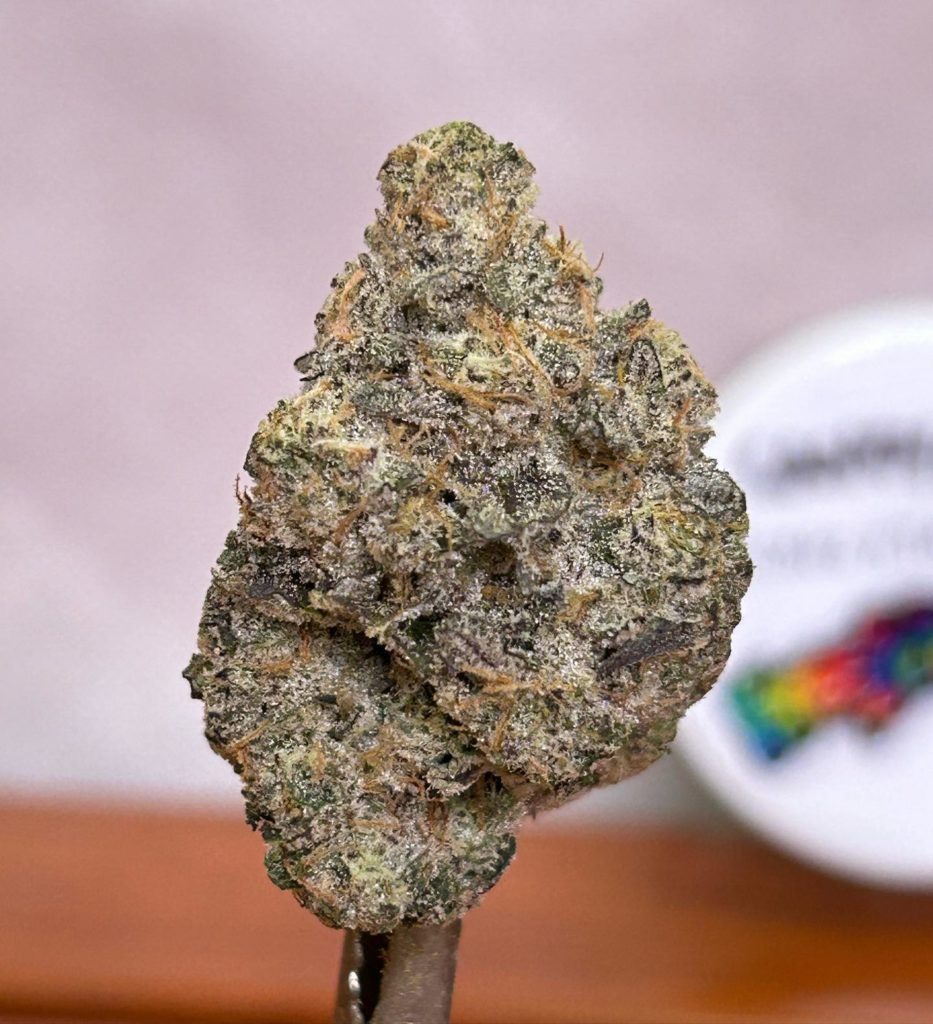 NFSOT! 21+ only! #freshvibezflowerco #calibudreviews #outofcharacters
Advertisements