Cultivar Review: LA Pop Rocks by Fresh Vibez Flower Co.
LA POP ROCKS @freshvibezflowerco
Lineage/Genetics: Z Animal x TKBx2
Original Breeder: Seed Junky Genetics
Grower: Fresh Vibez Flower Co
Terpene Profile: Unknown
LA Pop Rocks Cannabis Cultivar (Strain) Review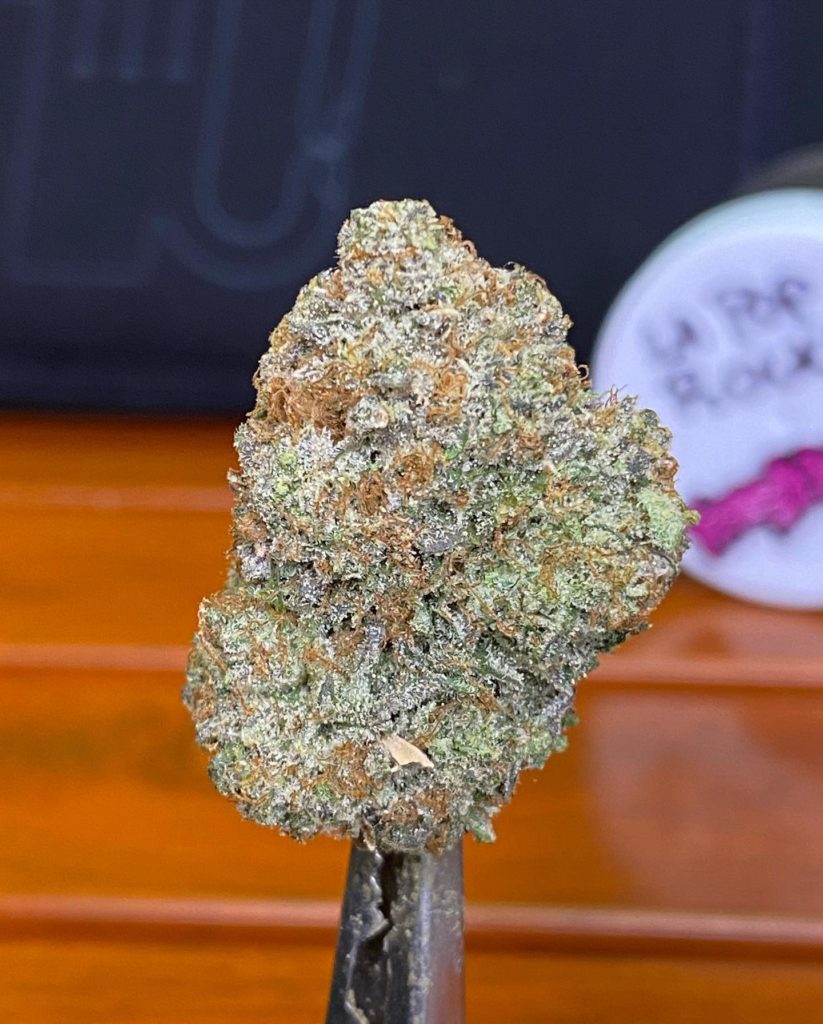 Aroma: 95/100
Creamy zkittlez candy terps, floral, lavender, pungent freezer burn gelato fuel, but with a heavy gassy/funky chem & burnt rubber kush terp, w/ roasted almond-marshmallow-CampFire terp. A sweaty dirty Linen musk mixes w/ slightly earthy swampiness. Beneath that is a cookie / dough layer, w/ chocolate & herbal spices. The Break up is leathery burnt rubber, z, & chem-kush.
Appeal: 91.99/100
Dense triangle hard nugged colas, made of mid greens to dark greens, with blueish-purple-toasted outer leaves, and heavy orange tints from the plentiful pistils giving a roasted appearance similar autumn colors, the greasy trichomes have a thick coverage showing nice intact heads of medium-large size in the crevices, doesn't appear leafy from the precise trim and outer nug formation but the inners reveal a semi-leafy (z) genetic, the outers are hard-nugged (cookied), but the inners are soft and partially calyxed out. Leans to the Crisp and properly dried side of things but it is cured well and still holding inner moisture and a mild trich stretch 6weeks after the pick up.
Ash 95/100 Terp-Ring 94/100 Taste 94/100 Smoke-Cleanliness: 88/100 Flavor-Retention: 92/100
White ash & a fat terp ring that grew to a puddly drip. The flavor was strong & held solid to the roach, the pepper/bite wasnt existent until the final 1/3 of the cone but I was impressed with the flavor retention that lasted 9/10 the cone. However that flatness of the cookie-dough terp was stronger then I anticipated some individual puffs but the roasted toasted campfire chem-kush candy z terps were strongly present the whole cone. Lots of fuel and burnt rubber, with candy cream z undertones. Great smoke all around, job well done here. (side note: the main cola did burn notably better then the smalls)
Effect: 94/100 Potency 88/100
Love these effects, pretty strong too, but definitely something I can easily handle as well. Toasty, Stoney, relaxing, but slightly uplifting and confident, mood boosting, happy, stress relief, not quite a couch lock but definitely a well-rested and refreshing buzz of 2.5hr.
Overall: 93.5/100
See Comments! NFSOT! REVIEWS ONLY 21+
Advertisements