Strain Review: SFV x TK by Jungle Boys
Strain: SFV x TK
Who: @jungleboys
Lineage/Genetics: SFV OG x Triangle Kush
Indica or Sativa: Indica dominant hybrid
Original Breeder: Jungle Boys
Grower: Jungle Boys
SFV x TK Strain Review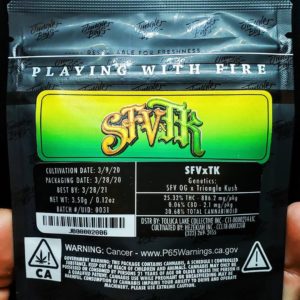 Stats: 25.32% THC – .06% CBD
Aroma: No surprises here, Pine-Sol, Kush (yes, this is a flavor), Skunk.
Flavor: Pine Needles, Citrus, Sour, lil' bit o' earth.
Feeling: Heavy Eyelids, Couch Lock, Relaxed, Sleepy.
Overall: When you're craving that classic OG Kush taste, this delivers in stride. I can't tell where the SFV OG or the TK starts or ends, which is a good thing, because it all comes together into a beautiful harmony. I usually finish off my nights with a strain that harbors all the characteristics that I find within SFV OG x TK. Even though the overall cannabinoid percentage of this batch is a lot lower than others (they have one in stock RIGHT NOW that is testing at 34.9% THC alone 💣) I'm not wishing that this was more powerful or sedative. This works just fine for me. If you love these flavors and phenotypes you'll dig this strain. These kind of buds is what got me into #marijuana over a decade ago.
The Fire Scale: 8/10 flame-ticklers
🔥🔥🔥🔥🔥🔥🔥🔥
#cannabis #420 #losangeles #lacannabis #weedporn #cannaseur #nugshot #fire #thefirescale #og #kush #weedstagram420 #weed #strainreview #wesmokedifferent #indica #sativa #hybrid