Strain Review: Crescendo by THC Design
Strain: Crescendo
Who: @thcdesign
Lineage/Genetics: Chem Dawg x I-95 x Mandarin Cookies
Original Breeder: Ethos Genetics
Grower: THC Design
THC Design Crescendo Strain Review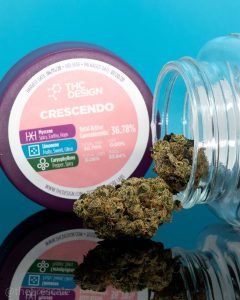 Stats: 30.7% THC .06% CBD
36.78% Total Cannabinoids
Aroma: Wet Sour Pine, Lime, Green Apple, Sandalwood.
Structure: Excellent cure & trim, nice and sticky. Medium-sized nugs.
Palate: Hazelnut Funk, Peat, lingering Creamy Spice & Pepper.
Effect: Above-Average Strength – Clear, focused head high. Relaxed body. Great for homework, art projects, etc.
Overall: My eyes are first drawn to the print on top of the eggplant purple lid: Myrcene, Limonene, and Caryophyllene, along with a small explanation of the expected flavors. I love that. Only a handful of companies bother to include terp information on their packaging, so big props to @thcdesign for including this info. Over time, I hope we can have more of this information readily available at the dispensary so that consumers can also become more educated, too. Anyway, we can discuss more of this in the comments… let's get to the flower.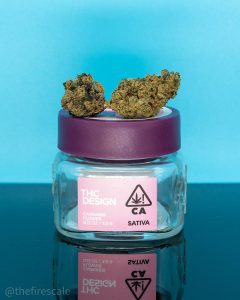 I crack open the jar to find an earthy, pine and yeast-like aroma. There's a hint of sour kush, and candy apple in the background. As the terps combine it turns into something that smells like cologne. Dry and woody, yet sweet. Strange, this doesn't smell like any sativa I've had before.
Shiny, sticky droplets are left on my fingers from the fresh bud as I pull it out of the jar.
Smoke is smooth, yet heavy. I'm blasted with creamy pepper and earth. I can feel the wheels in my head start to speed up, that slight Adderall sensation. Yet, the tension in my body disappears while my mind keeps going.
The next hit brings forth a slight nutty, bad-breath funk with a touch of acrid moss–a taste I've only found in some peated whiskeys.
This is a weird one, and I kinda dig it. The flavor profile doesn't really align with my preferences, but it's not off-putting in any way. The effects were pretty powerful, bud is cultivated with care and precision. This deserves a solid score.
The Fire Scale: 8/10 flamey-zaba-zangs
🔥🔥🔥🔥🔥🔥🔥🔥
Have you tried Crescendo? What did you think? Do you prefer hazy sativas or ones that speed you up?
#thefirescale #mmj #thc #weedmaps #weedstagram #weedporn #designerweed #cannabiscommunity #hightimes #thcdesign #chemdawg #crescendo #sativa
Advertisements