Strain Review: Cali Berry by Lumpy's Flowers
Strain: Cali Berry
Who: @lumpstatus
Lineage: Ben N Berries x Reckless Rainbow
Original Breeder: Lumpy
Grower: Lumpy's Flowers
Dispensary: The Artist Tree
Cali Berry Strain Review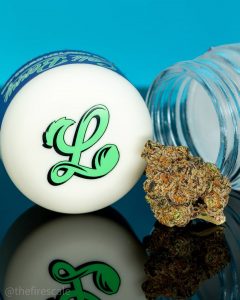 Aroma: Smarties Candy, Rosemary, Floral Yogurt, Dust.
Structure: Compact, diamond-encrusted, very pretty. Perfect trim, expert care, a little dry.
Palate: Strawberry Fun Dip, Pepper, Earth
Effect: Average Strength – Mostly head pressure, bit stoney. Mild body euphoria, and a little antsy.
Overall: First off, I love these containers. Classy branding, slender jars that fit easier in my stash box. Plus, I'm always excited to grab a jar of @lumpysflowers as the brand is synonymous with quality and exotic genetics.
I crack the lid on the jar to discover notes of hard raspberry candy, orange blossom, jasmine, and potting soil.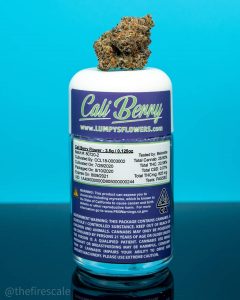 Before you read any further, did you look at the nugshot on this one? Good Lord, if Swarovski ever came out with their own line of weed, I imagine this is what it would look like.
Nugs are just a tad on the dry side, which I think account for the lower level of terpenes, they reside at about a medium-level of loudness.
I'll admit, I was a bit confused on the first couple hits. I got almost none of the delicate berry notes that my nose picked up and the title of the strain suggests.. Instead, spicy, pepper, and earth notes coated my mouth after the exhale. I brought my nose back to the jar, why aren't these terps showing up in the flavor profile? I let my heat wand cool off for an extra three second, and WOW, it was a blanket had just lifted off. Tart candy chalk and light blackberry notes rang right through quite strong. But at this temperature, the bowl doesn't quite fully combust, leaving the herb as black ash. My suspicion is that this one might be excellent in a vaporizer, but spicy and earthy with a bong, jay, or flame at higher temperatures.
Although it did take a bit of tinkering around to find the maximum value in this strain, I really enjoyed it and wonder if the juicy fruit terps can be a little more present in the cut, despite the method of inhalation. For now, let's give this a very fair:
The Fire Scale: 7/10 flame-joo-bluh-glees
🔥🔥🔥🔥🔥🔥🔥
What's your favorite Lumpy's strain? I definitely want to find their winner 🏆💪
#thefirescale #wesmokedifferent #mmj #thc #leafly #weedmaps #lumpysflowers #lumpysgenetics #caliberry #weedstagram #weedporn #designerweed