Strain Review: The Wedding Mintz by Packwoods
Strain: Wedding Mintz
Who: @packwoods
Lineage: Wedding Crashers x Kush Mintz
Original Breeder: Unknown
Grower: Preferred Gardens
Distributor: Packwoods
Wedding Mintz Strain Review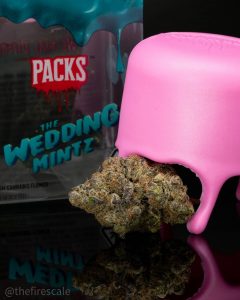 Stats: 29.95% THC 0% CBD
36.01% Total Cannabinoids
Aroma: None
Structure: Frosty, looks beautiful. Dense, dry. 7 SEEDS found.
Palate: Underseasoned Sponge Cake.
Effect: Mild Strength – Relaxed, while still alert. Mostly body euphoria.
Overall: I admit, this post is more of a conversation starter than it is a review. TLDR, Wedding Mintz really bummed me out. Like most of you, I absolutely love weed. It doesn't get me stoned the way it used to. My tolerance is quite high from consuming nearly every day for about 13 years. Still, for me, cannabis is one of the most fascinating, wonderful, and delicious objects. Even though the world is so clearly fucked up, I feel lucky to be alive right now so I can be here to try and find some of the best smoke on earth.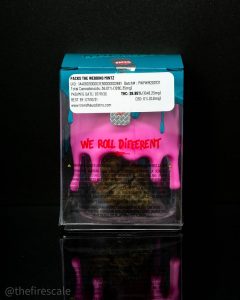 So when anything falls below that top tier… I'm not bitter, just severely disappointed because I know how great weed can be.
I mostly grade and rate everything on the following simple criteria:
Aroma: Smell strong and pleasing?
Structure: Is it fresh? Cured properly?
Palate: Taste amazing? Easy to decipher? Layered?
Effect: How does it make me feel?
Overall: The whole experience.
(Find the explanation of my numerical grading system in the comments below.) Some strains won't even hit the threshold for my scale.
As far as the Wedding Mintz, there was no smell, dry, almost a complete lack of flavor, and mild potency (maybe cause they have Integra packs affixed into the lid) Noted earlier, 7 seeds, in total, were found inside this premium-priced 1/8th. And the only person that gets the short end of the stick is the consumer. So, while I do see the benefit to posting only positive experiences, I'm sharing it all.
The Fire Scale: 2/10 flame-wahh-wahhs
🔥🔥
How do you rate/judge your herb? Does aroma/flavor/effect/structure outweigh one more than the other for you?
Also, who else has found seeds in their bags? First time in years for me so I was flat out shocked – @theblacklistxyz take note 📝