Strain Review: Raspberry Sorbet by Terpene Gas Co.
Strain: Raspberry Sorbet
Who: @terpenegasco
Lineage/Genetics: Raspberry Kush x Gelato #41
Original Breeder: Terpene Gas Co.
Grower: Terpene Gas Co.
Raspberry Sorbet Strain Review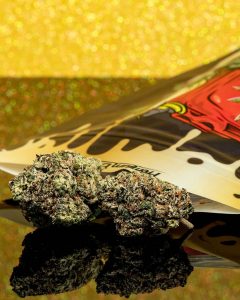 Aroma: Sour Musk, Parmesan Cheese Gas, Sweet Floral underneath.
Structure: Excellent cure, sticky, compact. Gorgeous, frosty bud.
Palate: Sour Butane, Raspberry, Rose, lingering Cheesy Musk.
Effect: Heavy Strength – Hazy, head pressure with heavy eyelids. Strong body wave that put me to sleep twice.
Overall: The terpenes are literally screaming for life as I pull open the seal on the bag. I am doused with funky, sour, musky, and slightly cheesy gelato gas. As I breathe deeper there's a sweet hint of flower petals. Hell yeah.
Carefully, I pluck a large nug by the stem and study the structure. It's like a purple chocolate covered nug that's been coated with glittery milk. The bud is soft, fresh, and leaves a sweet maraschino cherry resin on my fingers.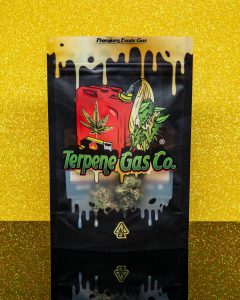 The inhale is smooth and thick like a diesel milkshake. The exhale… is unbelievable. Incredible natural tart raspberry terps, something I've never had, fill my mouth like I've bitten into a raspberry seed. Before I can really soak in the unique properties, the flavor profile brings the sour, cheesy, gelato gas. And like some kind of Wonka's 5-course meal chewing gum… the sweet floral fruit comes back to coax my mouth with flavor.
On top of it all, for my high tolerance, it smacks hard. I have a real tough time going to bed before 3 a.m. so any strain that makes me want to lay down is a Godsend.
Unless you are seasick of Gelato, I don't think there any way you can't absolutely love this strain. For me, this is a fantastic first impression. The only downside… it is not available in dispos. Don't hesitate if you get the opportunity to score a scoop of Raspberry Sorbet.
The Fire Scale: 9/10 flame-skuh-oopers
🔥🔥🔥🔥🔥🔥🔥🔥🔥
I was gifted this sample straight from the grower but in no way did that influence this review – it was straight gas ⛽ thank you @calibudshots for hooking it up! 💪📸
Have you had any raspberry terps in strains before? Also, shout out your favorite gelato cross. There's a good reason why it ends up in so many strains right now. When done right, like OG, it's hard to beat.
Agree/Disagree?