Strain Review: Moon Berries by Georgetown Flavors
MOON BERRIES
Lineage/Genetics: Gelato 33 x Gelato 41 x Gelato 42
Original Breeder: Island Boyz Exotics
Grower: Georgetown Flavors
Moon Berries Strain Review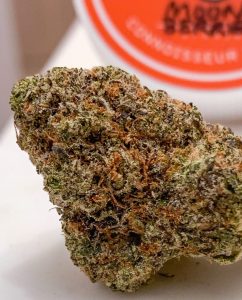 @islandboyzexotics_official1
@georgetownflavors.lookbook
Silencing Gelato critics, and restoring balance back to a market saturated with Gelato "mids", Moon Berries was straight up out of this world.
Moon Berries' buds are strikingly rainbow in color, trichome dense, and reeking of sweet candy fuel and spice. At its base, Moon Berries has a pale, pear green color fusing with a violet sprinkling and eye-catching red-orange pistils.
On be inhale, the strain felt distinctly peppery, herby, and fruity with notable berry undertones and perhaps a citrus zing.
Anticipate a cerebral head change maximizing euphoria and enjoyment, followed on by a "weightless" body high while the mind wonders. Powerful, sedative, and long-lasting in effect,
Moon Berries was an instant favorite. Did you sleep on this one?
#Budfinder
•
•
•
•
#dcbud #dc420 #420 #dcweed #mdweed #stoner #marijuana #legalizedweed #dccannabisculture #budtender #strainfinder #thc #dcgrown #dcgrowers #cannabisdaily #dccannabis #dcdabbers #dcedibles #puffpuffpass #dcnightlife #dmv420 #topshelf #devilslettuce #stoner #whiteashonly #cleanmeds #i71 #moonberries #gelato
Advertisements