Strain Review: Biscotti by Tradecraft Farms
Strain: Biscotti
Who: @tradecraft_farms
Lineage/Genetics: Gelato #25 x Girl Scout Cookies x South Florida OG
Original Breeder: Cookies Fam Genetics
Grower: Tradecraft Farms
Dispensary: Sweet Flower
Tradecraft Farms Biscotti Strain Review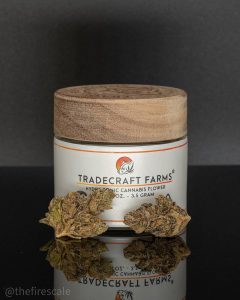 Stats: 27.247% THC
31.485% Total Cannabinoids
Aroma: Oak, Coffee Grounds, Fermented Berry, Musty Soil.
Structure: Great cure, nice nugs and trim. Sticky, but pulls apart with ease. Dark, cosmic purple bud with wild, fiery orange hairs.
Palate: Musky Cacao Nib, Mocha, New Leather Jacket, Sourdough Bread, Lingering Sweet Earth finish.
Effect: Average Strength – Very relaxed, even mix of body and head high.
Overall: @tradecraft_farms just nabbed a strong 2nd place finish in the Hybrid category at the OKC Cannabis Cup People's Choice with their cut of the now infamous, Biscotti. Let's see how it matches up.
A classy jar, complete with an attractive wooden lid, starts ensconced in a larger tube that reminds me of cologne packaging. It has a high-end, luxury feel even before I open the container. But let's smell what's inside.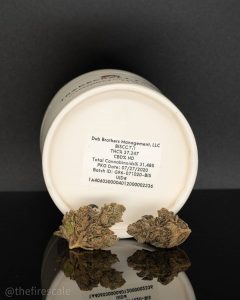 Strong, dark java notes cascade from the jar, like I've stepped into a hipster coffee-shop lined with wood countertops, a roaring fireplace and cozy leather furniture. There's a faint hint of the musky gelato gas as I take a deep breath.
The bud is coated with crystals, providing a sexy contrast against the dark purple and forest green bud. It rips from the stem with ease, like a pot roast that's been sitting all day in a crock pot.
The flavor starts with a smooth, musky gas, but mild, like it's been mixed with a hint of tobacco leather. Chalky, bittersweet chocolate notes arrive before descending into milky coffee, and a yeasty, earth finish.
I've you've never had Biscotti before, I would definitely recommend you give this one a try from Tradecraft. It's an accurate representation of the somewhat mild, roasted, flavor profile. A useful note to catalog, considering that Biscotti shows up in many exotic strains from #designerweed brands like Connected, BackpackBoyz, etc. It makes it that much easier to detect and separate while tasting those other crosses. A well-cultivated, successful strain from Tradecraft.
The Fire Scale: 8/10 flame-kyynas
🔥🔥🔥🔥🔥🔥🔥
Whaddya think of Biscotti? Got a favorite strain that uses it in the cross? Who does the best cut?
#thefirescale #mmj #thc #leafly #weedmaps #tradecraftfarms #biscotti #weedstagram #weedporn #designerweed #cannabiscommunity #strainreview #hightimes #girlscoutcookies #gelato25
Advertisements