Strain Review: Lemon Meringue Kush by FloraCal Farms
Strain: Lemon Meringue Kush
Who: @floracalfarms_
Lineage/Genetics: Lemon Skunk x Cookies & Cream
Original Breeder: Exotic Genetix
Grower: FloraCal Farms
FloraCal Lemon Meringue Kush Strain Review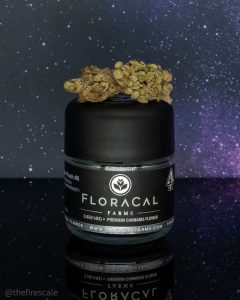 Stats: 23.79% THC .07% CBD
25.22% Total Cannabinoids
Aroma: Whipped Cream, small Forest/Pine note, sweet Citronella, Pool Water.
Structure: Frosty medium-sized nugs. Cure is fine, nice trim. Fluffy, and not too sticky.
Palate: Banana Cream Pie, Mothballs, lingering Sweetgrass.
Effect: Medium Strength – Floaty, euphoric head. Some pressure. Slightly sedative body high that doesn't weigh me down. Mostly head. Elevated heart rate.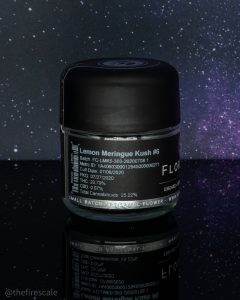 Overall: The nose is familiar. Marshmallow fluff, Cool Whip, a soft touch of the woods… I can see where the "Meringue" comes into play here, but terps are light by the time it came to me. I'm missing the lemon, but I do get a slight bug repellent note that does have a hint of citrus followed by underchlorinated pool water – @christianlovescannabis knows what I'm talking about.
Breaking up the bud is a relaxing process; like plucking little, pale green grapes off the vine. It's coated in crystals and the bud looks healthy.
The taste resides between banana mothballs and kush. Even a hint of sour cream as it drifts into a sweetgrass finish. For me, the citrus is completely absent and tastes more like a Plantain Meringue. Not a bad flavor, I just wish it was more assertive and developed.
Effects are nice. There's a bit head euphoria and uplifting body buzz in my shoulders. The cross, structure, and effect would lean me to guess this is a sativa-leaning hybrid.
If you're looking for a delicate, dessert-like flavor with a bit of a head rush then I think you'll dig this if you can nab a fresh batch. Personally, I wasn't vibing with this on any level… maybe it has something to do with that Cookies & Cream 🤔
The Fire Scale: 5/10 flamey-swole-tons
🔥🔥🔥🔥🔥
What have you tried from Floracal Farms and what was your impression? Interested to hear what you all think.
#thefirescale #mmj #strain review #florcalfarms #weedstagram #weshouldsmoke #prop64 #cannabiscommunity #lemonmeringuekush #stayhigh #dank #sativa