Strain Review: GMO Cookies by Pacific Reserve
Let's get cookin! #gmo #garliccookies by @pacificreserve Pacific Reserve GMO Cookies
Lineage/Genetics: GSC x Chemdawg
Indica or Sativa: Indica dominant Hybrid
Original Breeder: Divine Genetics
Grower: Pacific Reserve
GMO Cookies Strain Review
If you are newer to the weed culture, I should say first that the jar said #30THC and I've had lower % in the past that got me way more jacked up on the body and mind; meaning that it is the flavor (terpenes) profiles that push the reaction. Don't be worried, you will still get stoned, but I just wanna be straight that THC% does not equate to a better stone, #Terpenes do.
1. Rank garlic spice scent that cuts right through your nose hairs. Really memorable kinda fungi/cheese/zest that's a touch sour; inducing a mouth watering Pavlov's dog probably 🙂 .
2. Nugs are tight kolas sparkling with trichomes of yellow pigments mixed with light green. Purple leaves touched with spurts of red reveal even more trichomes when pulled apart. A little dry but tightly packed.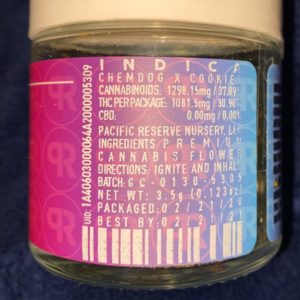 3. They don't want to come apart easily so heed caution for that resin. Baby be dense as shit. Opted for the grinder once able to pull small spuds off of each main nugget.
4. Packing the bong, the nugs release more rank scent that hints of Chem Dog but slight sweet also on the inhale. Smoke is a little harsh, rehydration for this puppy is needed.
5. Stone is a slow come-on. Pretty subtle but picked up steam as time went on. Total high lasted about 45 mins.
6. 30% #THC Content didn't really put me on my ass, remember that it is the flavor (terpenes) that drive the reaction, not the psychoactive chemical number on the jar.
___________________________
#cannabiscommunity #cannabis #cannabisreviews #trees #weed #weedreviews #pot #potreviews #marijuana #marijuanareviews #thc #sacramento #916 #420 #yee #legal
Advertisements