Strain Review: OZ Kush by Wonderbrett
Let's see if we can keep another review up while IG is sleeping.
Lineage/Genetics: Zkittlez x OG Kush
Original Breeder: Dying Breed Seeds
Pheno Hunter/Grower: Wonderbrett
Delivery Service: High Times Magazine
@wonderbrett_
@hightimesmagazine with the delivery
Wonderbrett OZ Kush Review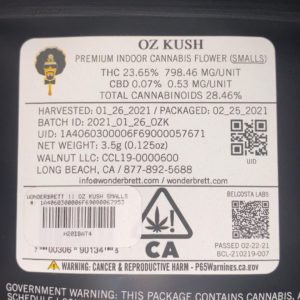 Brand: Wonderbrett
Cultivar: OZ Kush "Smalls"
23.65% THC
0.07% CBD
28.46 % Total Cannabinoids
Pkg date: 2/25/2021
Comments: Went after this bag specifically for the "smalls" factor as I know some brands put out less expensive bags holding small nuggets and I knew this was going to be exciting to take down. I've had tons of OG Kush flavors so I'll be hoping for the same outta these small buds.
Review
1. Scent: Smells fresh from being a few months old. Nice pine/lemon zest scents, breaking down is a "new rubber raft" aroma.
2. Appearance: Smalls. Lol. Purple, green, no leaf matter, just small tumble pebble nugs with trichomes.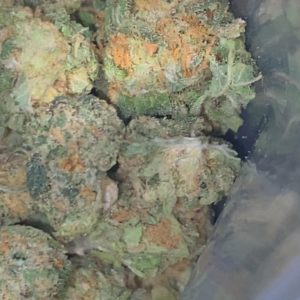 3. Nug Structure: They are easy to pull apart, but are holding together quite nicely. Moisture content is on point so far two bowls packed I'm a happy camper.
4. Smoke: Smooth! Strong pull off the bubble and it's smooth. Little back of the throat warmth, it's expected tbh. Later on, same bowl, it's more rounded and relaxed.
5. Taste: Nice pine vibe, turns slightly citrus (lemon zest) for a small instant on the exhale. But I'm not finding the rubber raft taste as I smelled earlier.
6. Reaction: First smoke of the day and I'm finding the eyes going low, brain is perking up on the front right & the body relaxing. I smoked the first rip about 3 hours ago and just finished it.
7. Conclusion: I'm a fan. Does it need to be marketed as smalls, even though the high was better than some bags at a higher price point? IDK 🤷‍♀️ it's a tough topic for the grower and the distro as we know smalls are "less desirable" but what does that mean and to whom? This was a slamming deal, has fantastic properties to the stone. We washed the pup, did laundry & cleaned his shit in the backyard on one bowl. Fuck yeah. This is a must grab.
8. Methods: didn't use the magnifying glass yet, but it's 🔎🔎🔎🔎🔎 across the board. Now on to the "smalls" talk; it was sub fourty five including tax and delivery from High Times. (Flash sale 20% as well) so one has to think, if I'm spending x should I expect AAA nugs? The answer depends on so many factors that I simply am not educated enough to begin listening. I would love to know what the feeling is from the IG community. Good experiences & bad with smalls. Because the best pick up in my book was a 1/4 of smalls of Morning Star from @the_green_cross in the 215 days. It was THE best smoke. So why wouldn't I want smalls over larger buds?
#TruNorCal420Reviews
#TruNorCal420