Wedding Crashers by GotBars510 x Terpenstein x The Canna Project
There he is! New Review doe! This sticker got me dying man. Loved the movie and they are having FUN y'all. Come on (Barz live voice) Don't take this weed shit to heart folks. This is just my journal of what I scoop & how it feels.
. @gotbars51oh @gotbars510_
. @terpenstein41510 @thecannaproj
. @lemonnadesacramento @westcoastsmokeshow
Brand: GotBars510 x Terpenstein x The Canna Project
Cultivar: Wedding Crashers
Lineage/Genetics: Wedding Cake x Purple Punch
Original Breeder: Ripper Seeds
Grower(s): GotBars510 x Terpenstein x The Canna Project
GotBars510 x Terpenstein x The Canna Project Wedding Crashers Review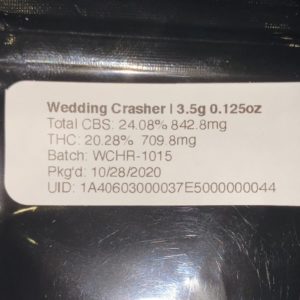 20.28 %THC
24.08% Total CBS
Comments: I'm working on my Got Bars sticker collection so I had to give this a try. 😂 Nah reality is I've had success with other cuts so why not?
Review
1. Scent: Powdered sugary vanilla cigar is what comes to mind. Sorta like those flavored blunts but it's super faint.
2. Appearance: Good B/C grade in the bag dusty and the hubs remind me of roses. Ton of color but Golden nugs lookin with some reddish haired trichomes.
3. Nug Structure: Not too dry, not too dense, broke apart nicely. The bud sticks a little to your fingers. No grinder needed unless you want dust for kief.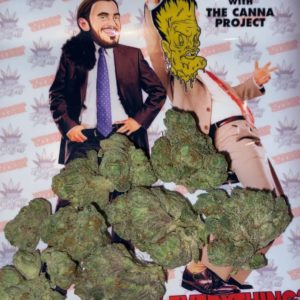 4. Smoke: Hot first bowl. Second was another tingle nose bit no coughing. Decently ripped fills the room.
5. Taste: Slight tang to it. Sneezed off the first rip lol. Overall it was a bit spicy vanilla with some cream on the end.
6. Reaction: Head rush bout min in, body isn't there yet to catch up; however eyes def feeling heavy. Couch lock was there but we had to cook.
7. Conclusion:. Would pretty much recommend any of his backed projects. Zero issues thus far. Not into his Sativa stuff but he's got those for ya! Loved it and it went fast.
#NoHashTagz
Advertisements