Strain Review: Purple Rippz by Seed Junky Genetics
Happy Friday the 13th, 2020!!
. @seedjunky_jbeezy
. @lemonnadesacramento
. @westcoastsmokeshow
Brand: Seed Junky
Cultivar: Purple Rippz
Lineage/Genetics: Jungle Cake x Purple Punch
Orginal Breeder: Seed Junky Genetics
Grower: Seed Junky
Dispensary: Lemonnade Sacramento
Purple Rippz Strain Review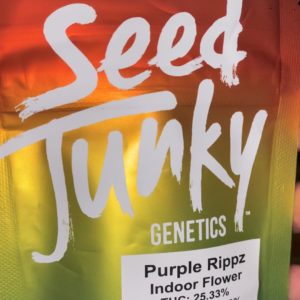 25.33%THC
Comments: They made a drop in Sacramento at a bunch of shops so I had to try. This was a toss up between one of 3 choices from em. Let's see how it stacks.
Review
1. Scent: Old style purple type of scent: grape, fresh soil, little mix of fruit punch on top as well.
2. Appearance: Holy Purple Heaven. Tons of color leaking out from stem to leaf. Fire orange hairs loaded with trichomes, I'm looking forward to this one.
3. Nug Structure: Well maintained stem to bud, meaning I can pull it apart with zero issues of the smaller stems breaking off. These are B/A grade sized and looking better on breakdown. Grinder or hand, dealers choice.
4. Smoke: Light burn to the throat but disappeared fast. Decent lingering berry purp on the mouth mixed with a slight tingle on the nose.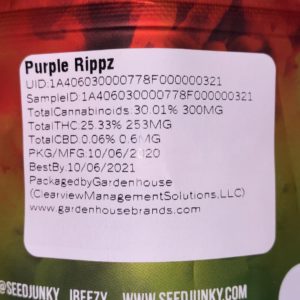 5. Taste: First rip was a clean berry like fresh sheets. I'll need to come back for a second taste. Couple days gone by, more flavors of berry, grape, and natural soil. Pretty clean overall but a little harsh off the bong as it did dry out a tad.
6. Reaction: It's taking the edge off of us just learning that Trebek died. I'm crushed but this is helping steady the course of "yeah bro, it's sucks, but here is some fire to help you relax a bit" and it is helping. Further into the week, this was my first to go to bowl. Nice stuff for relaxation.
7. Conclusion: It was good but slightly dry towards the end of the bag. The stone was pleasant and I was def impressed with the duration- over an hour plus between bowls. Would certainly recommend for a daily purple fan.
#cannabiscommunity #cannabis #cannabisreviews #trees #weed #weedreviews #pot #potreviews #thc #sacramento #916 #420 #yee #legal #strainreview #california #valley #thehighestcritic #westcoastsmokeshow #loud #seedjunky #cultivar #64 #purplerippz