Strain Review: .38 Special by Hollowtips
.38 SPECIAL (Animal Mints Bx1 x FaceOff OG)
@trustinpdc @hollowtipsca
Lineage/Genetics: Animal Mints Bx1 x Face Off OG
Original Breeder: Hollowtips
Grower: Hollowtips
.38 Special Strain Review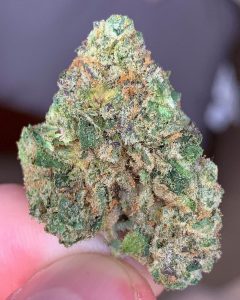 .38 Special is a strain I've been trying to get my hands on for the last 2-3 months, and boy it lived up to its name and the hype it's received.
At first glance, .38 Special's full color palette appears quite muted due to a thick layer of butter yellow trichomes. Underneath, gorgeous shades of forest and basil green, contrasted by streaks of berry jam, olive and cream colors. Some nugs have a dominant grape/berry profile with recessive green buds. .38 Special has an aroma of sour earth and vanilla fuel.
The inhale is complex yet tasty; a piney malt "cake" flavor is prevalent, with kicks of minty OG fuel, lemon citrus, with a hint of pepper on the back end. .38's effects come on fast and strong, starting with a spacey, euphoric head change felt behind the eyes and in the back of the head, which slowly drifts into. "medicinal" and alleviating body buzz. The strains FaceOff genetics really shine in the effects category, without possessing the couchlock/knock out effect present in many top shelf OG's. High in THC and possessing a heavy "thwack" upon consumption, .38 possess the qualities of an Indica dominant, yet overall, balanced strain.
Strength:8.7/10
Given its overall appearance/effect, .38 Special found itself on my top 5 strains of 2019. Special shoutout to @trustinpdc for the heads up and assist with this one. If y'all aren't on his wave, you're truly missing something special.
#Budfinder
•
•
•
•
#dcbud #dc420 #420 #dcweed #mdweed #stoner #marijuana #animalmints #dccannabisculture #budtender #strainfinder #thc #dcgrown #dcgrowers #cannabisdaily #dccannabis #dcdabbers #dcedibles #puffpuffpass #dcnightlife #dmv420 #topshelf #devilslettuce #stoner #whiteashonly #cleanmeds #i71 #38special #faceoff
Advertisements