Strain Review: Pluot by 454. Flower
Don't take me down IG! This is for the informational & journalistic history of cannabis (which was TAXED by the GOVERNMENT). 🤣🤦‍♀️
@454flower
@trunorcal420 (main)
YEE
Brand: 454 Flower
Cultivar: Pluot
Lineage/Genetics: Unknown
Original Breeder: Unknown
Grower: 454 Flower
Pluot Strain Review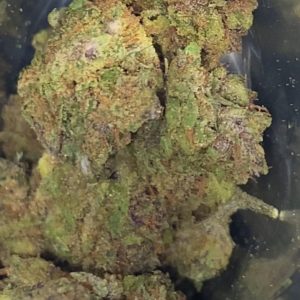 22.36% THC
0 % CBD
26.63% Total Cannabinoids
Pkg date: 4/23/2021
Harvest date: 10/11/2020
Comments: Damn! I usually don't do Sativa pure cuts as it makes me anxious & the terps are more sour-ish to citrusy; which the lady isn't a fan of. Haven't slide a bowl for her yet, so this is all me. 🤣😬
Review
1. Scent: Sour-ish Trainwreck style of vibe. The citrus leans more to a lime than a lemon especially when breaking up the material.
2. Appearance: Sun grown green with a nice trichome shine among some small purple spots here n there.
3. Nug Structure: Sticky to the fingers in touch and breakdown. The date being from last croptober but not getting bagged till April didn't make this dry. It's slightly crispy but not dry by my standards.
4. Smoke: Nice full bowl off the bubbler leaving a warmth to the chest, slight tingles to the nostrils. Mouth salivates.
5. Taste: Gettin some limey train wreck vibes. A later hit gave off more sweetness than sour.
6. Reaction: Since sativa cuts usually are not my jam, I was a bit spooked as to how it would run thru me. Nice float in the mind, slight anxious feeling though. I'm def chilling and laser focused on getting thru this review.
7. Conclusion: Saw a post on another page online say "a great afternoon pick me up" and I'd have to agree. Shizzle sticks. I'm def considering using that way. Mood is great, stone was "yup" but not wrecking house. Good gaming smoke, good for doing shit during the day. My back/body pain tho, def still with me.
8. Methods: 🔎🔎🔎🔎and a half magnifying glasses. It's a great one if you're are a fan of train wreck like cuts. It didn't put me into orbit which was a relief. Would recommend.
#NoHashTagz
Advertisements