Strain Review: Biscotti by Tradecraft Farms
Let's see if IG let's this LEGAL cannabis purchase stay up.
Lineage/Genetics: Motorbreath 15 x Gelato 41
Original Breeder: DANDANGO GENETICS
Grower: Tradecraft Farms
Delivery: High Times Magazine
Tradecraft Farms Biscotti Review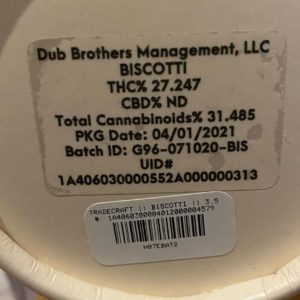 @tradecraft_farms
@hightimesmagazine with the delivery (I know, lol)
Brand: Tradecraft Farms
Cultivar: Biscotti
27.247% THC
0 % CBD
31.485% Total Cannabinoids
Pkg date: 4/1/2021
Comments: New to me brand that's been around the OKC/SoCal runs per their IG. Flavor and price was right on High Times Delivery…let's see how she goes.
Review
1. Scent: Earthy soil at first. Little sweet and a slight hint of a gas can, very faint tho.
2. Appearance: Green with purple nubbins here in there, Orange flowin hairs busting out around the bud. Trichomes give it a nice shine.
3. Nug Structure: Drops off easily by hand to smaller pebbles. Not densely packed along the stem.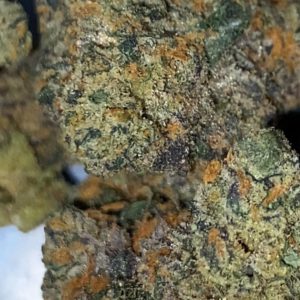 4. Smoke: Real nice and calm down and out. No coughing at all off the bubbler.
5. Taste: Getting organic nutty slightly gas on the roof of the mouth then it goes a splash of sweetness.
6. Reaction: Eyes shrank instantly. Body is relaxed a bit but I'm not stuck. Lasting over an hour for a single bowl, this is workin just right.
7. Conclusion: Cool packaging with a cardboard container, nice bud and good stone, this is a brand I'll keep my eye on. The numbers are higher than some of the top tier brands I've had this summer, but we all know numbers are not what make the high. I'm impressed by it.
8. Methods: Bubbler usage + the misses on her mini bong, we enjoyed this and give it a solid 🔎🔎🔎🔎🔎 outta 5; would recommend.
#TruNorCal420Reviews
#TruNorCal
Advertisements