Strain Review: Pink Rozay by Ridgeline Farms
Pink Rozay
Lineage/Genetics: Lemonchello #10 x LPC75 (London Pound Cake #75)
Original Breeder: Cookies Fam Genetics
Grower: Ridgeline Farms x Redwood Roots x Tangled Roots
Ridgeline Farms Pink Rozay Review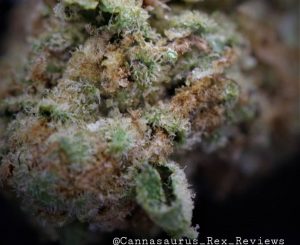 By @ridgeline_farms farms
@redwoodroots.family
@tangledroots_community
Welcome back for part two of this amazing collaboration out of the beautiful emerald triangle, now I know you all have seen cookies variation of this strain and I am not a big fan of @cookiessenterprises mainly due to inconsistent products and a high ticket to go along with it, but this is not about them this is about Ridgeline Farms 🚜.
Ridgeline Farms is a second generation farm set in the backdrop of the stunning California Redwoods and deep filled forests of oak located in Southern Humboldt County near the Eel River, using all natural and organic techniques to produce high quality terpene rich cannabis that is grown with absolute love and care,the farm holds wins in the @emeraldcup with Green Lantern and Ridgeline Runtz,this here is a cut of Pink Rozay that was obtained through Cookies and I am ready to take some snaps of this treat that awaits me.
Appearance- Upon opening my jar what I recieved was a abundant amount of medium to large sized nugs, fluffy qnd dense, no real honker buds but a very good amount considering the great ticket that was paid, earth green tones encompass the hand trimmed nugs mixing together beautifully with a golden sheen of dense thrichs that are packed into every nook and cranny of surface giving off a lovely golden pollen tone to most of the flower, the pistils are of a orange tone and are disguised beneath the shiny layer of gold dust that overtakes this beautiful example of cannabis.
Smell-Ok so I thought that by having two strains in one jar only seperated by a cardstock would have terps combining from the different strains, boy was I wrong, the first thing I pick up on the nose is a earthy organicness, quickly that musk picks up and turns to a sweetness almost like a white grape juice that is slightly fermented, like a fine wine crisp smooth and absolutely sensational.
Taste-On the inhale I am met with a smooth hit with a very fresh earthiness that shifts to a crisp delicous berry on the back end that stuck to my entire mouth, the exhale was equally as smooth and provided a similar experience but in reverse
meaning the berry was immediate and the smooth creamy organic earth slid its way back in finishing off with a nice clean combination with little to no cough.
Effects-Instantly after my first bong hit I could feel the head change begin to build with a tad bit of anxiousness attatched, After my second rip I felt slightly weighed down, my body relaxed with that same bit of zing just like a contant beach breeze my head being the breeze, one more to go. As I exhaled my final pull a halo formed around my head as I feel myself settle in for a heavy couch sinking stone, as a short time went by the zing subsides and i fall into a heavily medicated bliss.
I myself enjoyed this for after work or before bed, the high just really made me feel good and just kept me calm no matter what the situation was, great for settling into bed and falling asleep on the main screen of Netflix, remote in hand.🤣🤣🤣
Great job to the Ridgeline Farms team and all parties involved, this is just some straight 🔥, this is how cannabis should be terps that are through the roof with a coa that is reading 19.21 % total thc, just shows proof that thc isn't everything, its about those terpy terp terps!!!
#pinkrozay #ridgelinefarms #tangledroots #redwoodrootsfamily #cannabiscommunity #cannabisphotography #macrophotography #cantstopwontstop #emeraldtriangle #southernhumboldt
Advertisements