Strain Review: Wookies by Georgetown Flavors
WOOKIES
By @georgetownflavorsreviews @georgetownflavors.rep
➡️➡️➡️➡️
Lineage/Genetics: Girl Scout Cookies x The White x Chemdawg 91
Original Breeder: Unknown
Dispensary: Georgetown Flavors
Georgetown Flavors Wookies Strain Review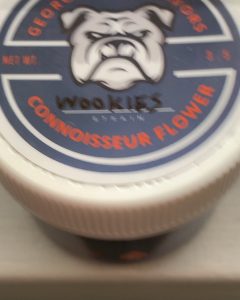 I had to get my hands on GTF's first line of in-house flower, and their premier offering was nothing short of special. Wookies lineage can be traced back to GSC, The White, and Chemdawg genetics.
Look: GTF's Wookies is a sight for sore eyes. The understructure of these buds largely consisted of darker swathes of lavender, while contrasting pale minty green hues and striking formations of orange pistils help give the strain a "marbled" look. Sugary trichomes dust the exterior, and coat Wookies interior, making for a sticky, but appealing hand grind.
Taste: On the inhale, a pleasant medley of cream, pine, and kush, Wookies finishes with hints of florals and maybe even citrus. Creamy-sweet, I consider Wookies a "dessert" strain given its flavor, differing from earthy or gassy strains. I enjoyed smoking bowls of Wookies in between other strains to best compare and appreciate its flavor profile.
Effect: An Indica dominant hybrid deriving from GSC, Wookies is a fast-acting strain known for its higher THC percentages and subsequent euphoria, mimicking some Sativa leaning strains. However, Wookies indica genetics do not take long to kick in, supplementing and complementing the strains early head change with the onset of a pleasant sedative effect which consumes the entire body. Wookies wont put you to sleep necessarily, but it will set the tone for a relaxing evening. A must try post-workout to enjoy its "physical" effects.
GTF always brings the ⛽️, and they blew me away with Wookies, their first "in-house" strain. The quality of Wookies is on par with their excellent exotic menu and collaborations with west coast brands.
Reviews on @islandboyzexotics_official1 RASCALS and ISLAND BERRIES coming soon!
#Budfinder
•
•
•
•
#dcbud #dc420 #420 #dcweed #mdweed #stoner #marijuana #dccannabisculture #budtender #strainfinder #thc #dcgrown #dcgrowers #cannabisdaily #dccannabis #dcdabbers #dcedibles #puffpuffpass #dcnightlife #dmv420 #topshelf #devilslettuce #stoner #whiteashonly #cleanmeds #i71 #wookie #wookies
Advertisements