Dab review: GMO Single Source Rosin by Hilltop Gardens
GMO single source rosin
Lineage/Genetics: (Girl scout Cookies x Chemdawg)
Original Breeder: Mamiko Seeds
Grower/Processor: Hilltop Gardens
GMO Single Source Rosin Review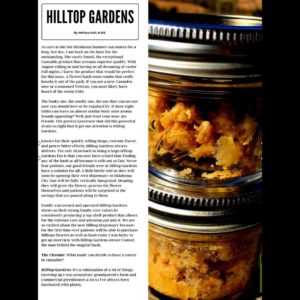 .
.
Grown and processed by @hilltopgardens_llc
.
.
As sure as the hot Oklahoma Summer sun makes for a long, hot day, I am back on the hunt for the outstanding. The rarely found, the exceptional Cannabis product that screams superior quality. With August rolling in and having us all dreaming of cooler Fall nights, I knew the product that would be perfect for this issue. A flower/hash rosin combo that really knocks it out of the park. If you are a new Cannabis user or a seasoned Veteran, you most likely have heard of the strain GMO. The funky one, the smelly one, the one that you are not sure you should love or be repulsed by. If done right GMO can leave an almost similar to body odor aroma. Sound appealing? Well, just trust your nose my friends. The grower/processor that did this powerful strain so right that it got our attention is Hilltop Gardens. Known for their quickly selling drops, extreme flavor and power hitter effects, Hilltop Gardens always delivers.
.
.
Read the whole article and exclusive interview with Connor from @hilltopgardens_llc in the August @thechronicmagazine
.
#strainhunter #privatereserve #topshelf #exuisitecannabis #okcannabisculture #cannabis #okcannabiscommunity #highsociety #theoklahomachronic #okcannacritic #strainreviews #cannalifer #reviewpreviews #publishedreviews #originalreviews #notyouraveragereviews #staylitoklahoma #smokebetter
Advertisements