Strain Review: GMO Cookies by Farmer's Choice
GMO COOKIES
By: @Farmers.Choice.831 @ShoppingCarts.415 @deepinthebag_415
Via: @georgetownflavors.rep @georgetownflavors.lookbookco
Lineage/Genetics: GSC x Chemdawg
Original Breeder: Divine Genetics
Grower: Farmer's Choice
Dispensary: Georgetown Flavors
Farmer's Choice GMO Cookies Strain Review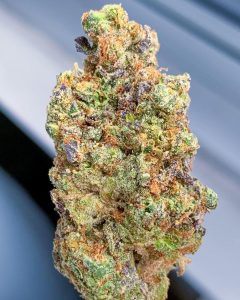 Standing in stark contrast to many of the candy-like strains we've covered lately, GMO Cookies appeals for a completely different set of reasons – a memorably pungent nose, a unique, savory smoke, and a 'knock you off your feet' effect.
Appearance: Pepper-shaped, lanky bud structure with defined, mature and greasy trichome covered calyxes. At its base, GMO Cookies boasts a paler, pear green complexion spattered with flecks of iris and periwinkle.
Nose: You can smell a quality cut of GMO Cookies like this one from a mile away. Opening the bag, the senses are overwhelmed with a thick, sour and oniony 'everything bagel' like funk combined with a sharp kick of pungent petroleum, rubber and dried fruit. It's that dank type of smell that will linger in a room for hours after opening the bag.
Smoke: GMO Cookies possesses a two-toned flavor borrowing some of the essential essences of both parents. On the inhale, the palate is filled with notes of tangy sourdough, salt and vinegar, nutmeg, and of course a strong undertone of a super chemmy diesel. The exhale is a bit muddled as these distinct flavors meld into a savory yet spicy, charred "beef jerky" like flavor. A super unique taste profile, GMO Cookies reminds me these lavish dessert strains aren't the only thing worth smoking.
Effect: I found GMO Cookies to hit hard and fast, with a swift smack to the face followed by a wave-like display of effects washing over and warming the body. After settling in, the high produces a sense of pressure get strongest around the eyes and temples. For the next few hours I found myself enwrapped in a time-slowing, spacey, and unfocused state while stuck to the couch with minimal will to move. If you're looking for a "zoom out", change of pace kinda high, I recommend checking this one out.
#Budfinder
▂▂▂▂▂▂▂▂▂▂▂▂▂▂▂▂▂▂▂
#dcbud #420 #dcweed #stoner #marijuana #dccannabisculture #strainfinder #thc #dccannabis #puffpuffpass #dopesmoke #topshelf #stoner #whiteashonly #cleanmeds #i71 #Farmerschoice #GMO #GMOCookies
Advertisements