Strain Review: Atomic Apple by Paramount Fleur
ATOMIC APPLE 🍏
By: @alienlabs
Sourced: @paramountfleur
Gifted: @georgetownflavors.rep @georgetownflavors.lookbookco
Lineage/Genetics: Triangle Mints x Apple Fritter
Original Breeder: Alien Labs
Grower: Paramount Fleur
Dispensary: Georgetown Flavors
Atomic Apple Strain Review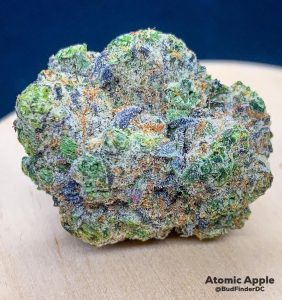 Today we have just a quick review and spotlight on a gram or two of Alien Apple (formerly Cosmic Crisp), kindly gifted by Georgetown Flavors. This was my first time trying the heralded Alien Labs — long story short, this sample lived up to the hype.
Appearance: I was gifted a single medium- sized, compact and bulbous nugget exhibiting gorgeous sea-foam to shamrock green hues with flecks of indigo across the exterior and deep veins of sangria further within. Despite the dense structure, the bud itself had some give when handled and produced a nice fluffy grind. I am not lying when I say every centimeter of Atomic Apple is wholly covered in long, glossy, mature trichomes.
Nose: I recommend everyone stick their nose in a batch of Atomic Apple, the smell is that intoxicating and dialed in. The first whiffs out the bag scream straight malty apple cider terps soon complimented by more of a musky multi-fruit berry punch that's both sweet and sour. Light hints of cheese, spice and lemon can also be detected.
Smoke: The primary flavors that meet the lips are a squeezed Granny Smith apple paired with a tart vanilla greek yogurt. Beneath the outwardly sweet palate however lies a fun battle between notes of a cool mint and a citrusy fuel, resulting in a well balanced, rich exhale.
Effect: Atomic Apple strikes the ideal hybrid combination of effects, managing to "energize" the mind while slowing down the body. Beginning with a swift, yet surprisingly gentle onset of effects, I soon found myself in a trance like state of deep introspection and creativity. Physically, Atomic Apple will definitely relax the body but it won't reach knockout levels during th experience. All in all, a lovely mood improving, euphoric high which can be enjoyed throughout the day.
#Budfinder
▂▂▂▂▂▂▂▂▂▂▂▂▂▂▂▂▂▂▂
#dcbud #420 #dcweed #stoner #marijuana #dccannabisculture #strainfinder #thc #dccannabis #puffpuffpass #dopesmoke #dmv420 #topshelf #stoner #whiteashonly #cleanmeds #i71 #alienlabs #atomicapple
Advertisements