Strain Review: Cotton Candy Crunch Berriez by Oopz All Berriez
COTTON CANDY CRUNCH BERRIEZ 🍬
By: @OopzAllberryz @shmoplife4life
Via: @georgetownflavors.rep @georgetownflavors.lookbookco
Lineage/Genetics: Unknown
Original Breeder: Oopz All Berriez
Grower: Oopz All Berriez
Dispensary: Georgetown Flavors
Cotton Candy Crunch Berriez Strain Review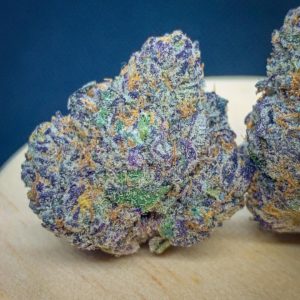 Major props to Georgetown Flavors for adding such a unique and iconic brand/strain to their menu. CCCB is not your everyday strain and brings some distinctive flavors to the table.
Appearance: my gift consisted of Smaller sized but dense and perfectly manicured nuggets boasting a frosting like layer of developed, creamy trichomes across the exterior. The chunky buds themselves have a lovely indigo complexion with sparse green sugar leaves and pistil clusters.
Nose: One whiff and you can tell how this strain came to be named. Sweet and cool, candy-like bubblegum terps reek off these buds, paired with a rubbery funk and floral menthol musk.
Smoke: CCCB maintains a smooth, pastry like inhale and a syrupy, almost milky, sweetness with hints of peppery nutmeg, skunky hash and diesel. The exhale is much of the same, with those flavors maturing into more of a cereal bowl / fruit loop palate.
Effect: I found CCCB to possesses a potent, head dominant and spacey high which sat me down on the couch and kept me locked in a trance for a few hours. A slight tingle can be felt resting on the cheekbones and throughout the arms and legs, almost like a pleasurable "pins + needle" feel, but the body high has some weight to it to. Cotton Candy Crunch Berriez won't knock you out during the day, but certainly has sedation potential in the evening hours.
#Budfinder
▂▂▂▂▂▂▂▂▂▂▂▂▂▂▂▂▂▂▂
#dcbud #420 #dcweed #stoner #marijuana #dccannabisculture #strainfinder #thc #dccannabis #puffpuffpass #dopesmoke #dmv420 #topshelf #stoner #whiteashonly #cleanmeds #i71 #cottoncandycrunch #crunchberriez #oopzallberriez
Advertisements