Dab Review: Mac 1 Live Rosin by Budsmith
Single Source Budsmith Mac 1 (WPFF) Whole Plant Fresh Frozen
cultivated,washed and pressed by the one and only @mendobudsmith
Lineage/Genetics: MAC (backcrossed)
Original Breeder: Capulator
Grower/Processor: Budsmith
Budmisth Mac 1 Live Rosin Review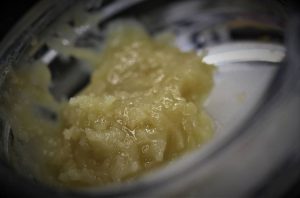 Welcome back for another week of terp filled connisuer esc smoke, I have been waiting years to get my hands on this very rare very hard to find brand, yes we have all had mac before, but who is cultivating the strain really does matter and you can just see for yourself from these pictures, it screams quality all the way around.
Appearance-When recieving this jar it came as a lovely beautiful golden almost transparent fresh press(featured in the cell phone video above) as i have seen the budsmith say,"fresh press or die on more than one occasion, I myself am partial to a cold cure, so I sat the jar out at room temp in a dark place for approximately 24 hours, after that I then crushed the hash rosin and "whipped it up" what I was left with was truly amazing, super wet wet whitish golden tones shine and sparkle beautifully as I hold it to the light, layers of grease form from the room temperature molding into almost a icing/frosting like consistensy, just a massive terp pool waiting for me to dive in as my excitement begins to build.
Smell-At first whiff I recieve the same creamy berry cheesy funk that we all know and have grown to love, on the back end of the nose I am met with a essential oil like musk on the side of eucalyptus which caught me completly of guard and leaves a tingling burn on my nostrils like when you put on vaporub, deffinetly a killer pheno.
Taste-On the inhale my pallette takes in notes similar to the first whiff of the nose, very smooth very tasty and sticks to the roof of my mouth, the exhale is where things get interesting with a sweet candy like gas that completly overwhelms me as I can feel the terp burn just tingle away taking all the flavor of the sweet creamy deliciousnes in, good ole mac, deffinetly one of my favorites for a after work or evening toke.
Effects-Immediatley after my first dab I could feel a heavy calming feeling begin to build, muscles loosening and just completly falling into a extremly relaxing high,I could stop here and I honestly would have a really nice ass buzz but not stoned.
I rip a second hit and as I exhale I feel the high work its way down into my arms giving them a slight heaviness to them, feeling absolutely amazing just a flat out heavy stone that is building heavier and heavier, very little to no head rush, just complete happiness. Upon a third dab my eyes begin to get extremly heavy as I slip into a well medicated bliss. I really enjoyed this before bed as it really put me in the right mood to just chill out and relax, not a worry in my head as I sink into my bed for a super good night of sleep.
Absolutely killer work and many thanks to @mendobudsmith for the work he puts in and showing people that it's all about the love and care given to the plants every step of the process, 🔥 in 🔥 out,nicely done, I will savor this one right ip to the very last dab.
#cannabiscommunity #cannabisphotography #hashrosin #liverosin #wpff #mendobudsmith #budsmith #mendocinofire #cannabisreviews #hashruleseverythingaroundme #hream #hreamteam #macrophotography #lovewhatyoudo