Strain Review: Mac 1 by Sweetwater Pharms
New Review #TGIF @sweetwaterpharms Sweetwater Pharms Mac 1 #mac1 20.92%THC
Lineage/Genetics: Alien Cookies x Colombian x Starfighter
Indica or Sativa: Indica dominant Hybrid
Original Breeder: Capulator
Grower: Sweetwater Pharms
Sweetwater Pharms Mac 1 Strain Review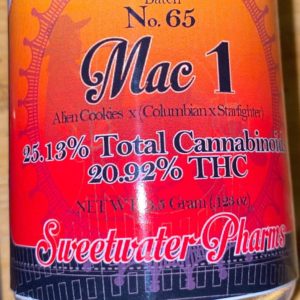 Comments:
New flavor I've seen out n about by them but haven't dabbled wit it. So far it's lookin litty! Can't wait to try.
Review:
1. Scent: Little fruity rubber tire smell off the jar. Reminds me of a typical blue hard candy from my grandmas. Little bit of berry perhaps.
2. Appearance: Trichomes sprouting from every corner. Shit is like glowing almost, for real. Green, purple and some red hairs are among some of the highlights.
3. Nug Structure: Good all around. The buds are easy to pull apart, I could use the grinder for sure since my fingers got pretty sticky.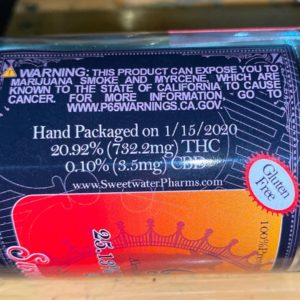 4. Smoke: Milked a huge rip using the bong and was def not expecting the smoke to be as dense and thick as it was. One or two rips will tack out a room.
5. Taste: Little notes of blackberry, also pine that I wasn't expecting. Pleasantly easy exhale, limited irritation chest wise.
6. Reaction: Instant head flip from sober to lifted. No delay at all. Relaxing upper body and no pain in the legs. I've seen it tagged as a hybrid, Indica, and Sativa so couldn't tell which way it's leaning. Pretty even 50/50 for me.
#cannabiscommunity #cannabis #cannabisreviews #trees #weed #weedreviews #pot #potreviews #marijuana #marijuanareviews #thc #sacramento #916 #420 #yee #legal #strainreview #mac1 #sweetwaterpharma
Advertisements