Concentrate Review: MAC 1 Sauce by Entourage Company
MAC 1 SAUCE
Via: @ent.our.age.dc @enter.our.age @entouragecompany
Lineage/Genetics: Alien Cookies f2 x 'Miracle 15' (Colombian Gold x Starfighter)
Original Breeder: Capulator
Grower/Processor: Entourage Company
MAC 1 Sauce Review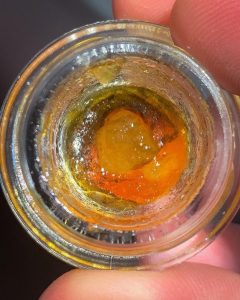 It was an absolute treat to be gifted this delicious Mac 1 Sauce from @ent.our.age.dc — When I first opened the pre-packaged sauce, the crystals had congealed into one large, gram sized formation (swipe through for images of first look). Originally, the sauce smelled predominately of a sweet citrus candy, however breaking the diamonds made the real magic happen. A vibrant, ripe orange peel nose completely takes over as the sauce is mixed into a glistening, terpy, slushy like consistency.
Especially when utilizing a cold start, the flavor that comes through is so tasty and refreshing. A tangy, orange juice flavor overwhelms the inhale with a slight hint of a spicy pastry and pine introduced on the exhale. Coming from someone who hadn't yet dabbed a MAC based concentrate, it was a treat to experience the difference, yet subtle similarities between MAC 1 flower and sauce both from a taste and effect perspective.
A dab of this MAC 1 leads to an instantaneous smack to the face, with the high soon resting at the temples with pressure felt throughout the whole head. A supposed hybrid strain, this sauce (to me) leaned indica and heavy – a stoney, 'head in the clouds', euphoric haze. Like it's flower counterpart this MAC 1 Sauce is an absolute mood changer, obliterating all ailments from stress/tension and sucking you into a entrancing high.
#Budfinder
•
•
•
•
#dcbud #dc420 #420 #dcweed #mdweed #stoner #marijuana #dccannabisculture #strainfinder #thc #dccannabis #dcdabbers #puffpuffpass #dopesmoke #dmv420 #topshelf #stoner #whiteashonly #cleanmeds #i71 #entourage #Miraclealiencookies #MAC1
Advertisements